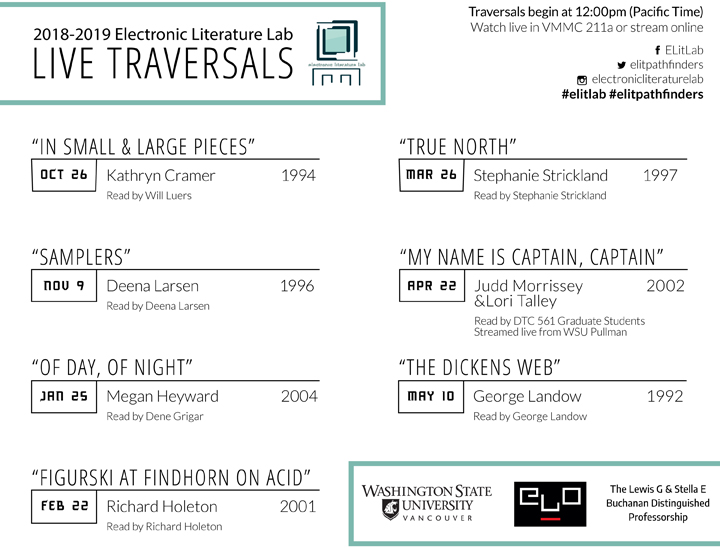 2018-19 Live Stream Traversal Schedule
For the second year, the Electronic Literature Lab (ELL) at Washington State University Vancouver is hosting live stream Traversals of pioneering born digital literature.
These events feature authors or readers performing the work on computers on which the works were originally experienced at the time of the works' release. We are pleased to announce that four of the seven authors will be on hand at ELL for the Traversal: Deena Larsen will perform her work, Samplers; Richard Holeton, Figurski at Findhorn on Acid; Stephanie Strickland, True North; and George Landow, The Dickens Web. Live streaming means that the online audience can view the performance via YouTube and participate by interacting via the Online Chat feature. People are also invited to attend the event in the lab and meet the authors and readers.
During the event the video is captured; later, it is incorporated in an open source online book created on the Scalar platform, entitled Rebooting Electronic Literature,  for future viewing. Expected publication date of the book is June 1, 2019.
The first Traversal takes place on Friday, October 26 at 12 noon. CMDC faculty and the winner of the "2018 The Robert Coover Award for a Work of Electronic Literature," Will Luers, will perform Kathryn Cramer's In Small & Large Pieces (1994) on floppy disk using a Macintosh Performa CD 5215 (1995). Handling the sound production this year will be CMDC faculty member and sound artist John Barber. CMDC's tech guru Greg Philbrook will once again handle the live stream production. ELL Director Dene Grigar oversees the project, and ELL Associate Director Nicholas Schiller supervises the social media interaction during the event, with the ELL Undergraduate (UG) Researchers manning ELL's Instagram, and Twitter channels and Pathfinders' Facebook account.
A special thank you to UG Researcher, Holly Slocum, for creating our gorgeous poster. This event is made possible by funds from the Lewis E. and Stella G. Buchanan Distinguished Professorship given awarded to Grigar in 2017.