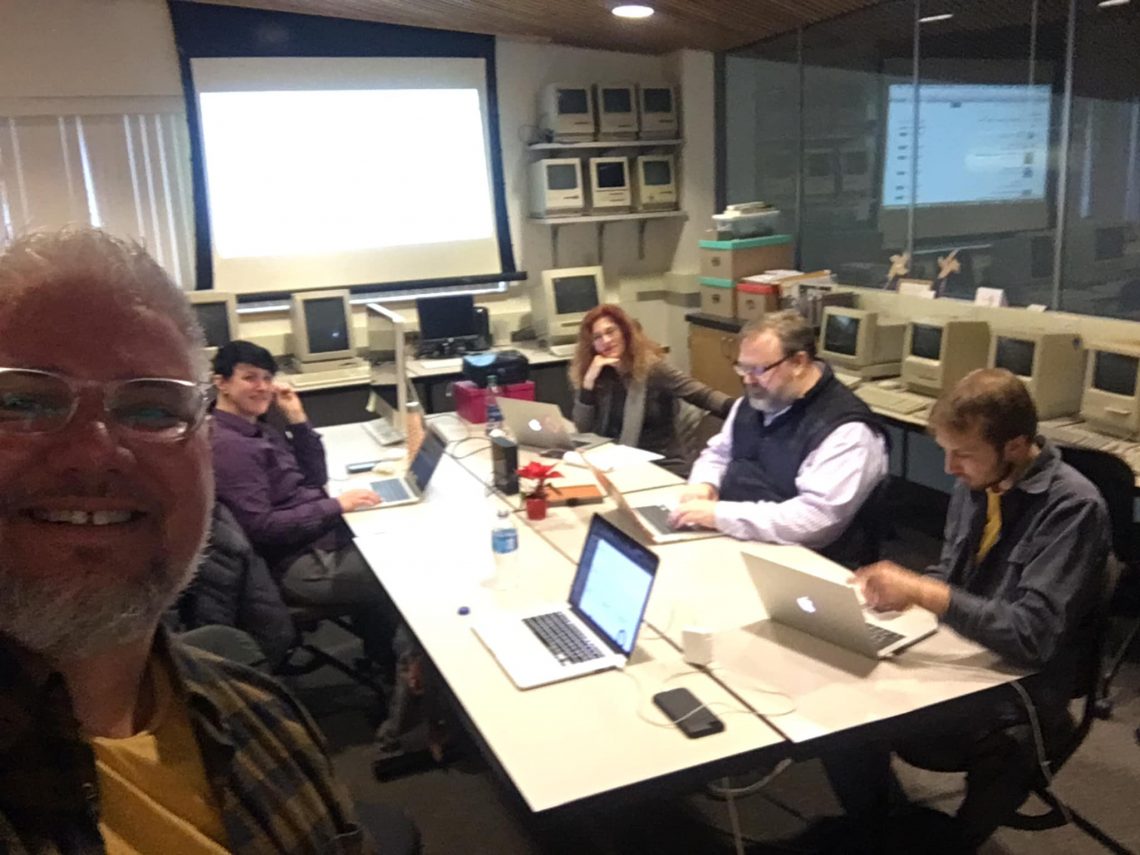 Coping with Bits Project Meeting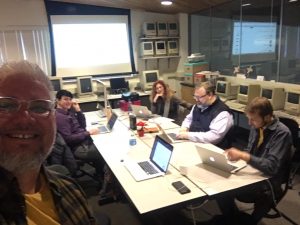 This week Leonardo Flores (U of Puerto Rico Mayaguez) and Abby Adams (Ransom Humanities Center) flew in for two days of meetings about the Comprehensive Online Portal for Electronic Literature Works (COPE) project.
Since June 1, 2018 when they––along with Nicholas Schiller (WSUV), four Undergraduate Researchers, Greg Philbrook, and I––kicked off the project, we have
Developed the metadata for close to 1000 works that constitute the seven collections of electronic literature owned or managed by the Electronic Literature Organization into CSV files
Conceptualized the site where we are hosting this metadata (called the "ELO Repository") and led the efforts to build this site
Developed a workflow for processing and archiving e-lit
Began work on a white paper that lays out best practices for preserving e-lit, a publication called Coping with Bits that will accompany ELO's two other PAD publications (Acid-Free Bits and Born-Again Bits).
We also worked on the final report about the project for the Mellon Foundation and drafted our panel presentation for submission to the ELO 2019 conference in Cork, Ireland.
Leo, who takes over the helm as President of ELO in July 2019, and Abby, who currently serves on the ELO Board, also got to see the work Undergraduate Researcher Moneca Roath has done on inventorying and developing the metadata for The Museum of the Essential and Beyond That, which will be included in the ELO Repository in the spring. ELO funded Moneca's work on this important collection.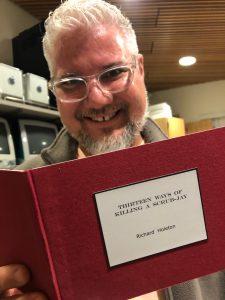 While they were on campus, another box from e-lit artist Richard Holeton arrived containing even more treasures for the ELO Repository, one of which is his artist's book, "Thirteen Ways of Killing a Scrubjay." Sarah Smith had also sent hand-made broaches of Lady Nii, the major character from her e-lit work, King of Space. James O'Sullivan, who is Chair of ELO 2019, had sent me a gorgeous pop up Christmas card. And if that wasn't enough excitement for one day in the life of a rogue archivist: Deena Larsen sent the lab copies of Samplers for the ELO Archives.
The ELO Repository, by the way, goes live on December 30, 2018. The COPE Team will be celebrating this phase of completion and moving quickly to continue building out this resource in the spring.