Voyager's & The Institute for the Future of the Book Founder, Bob Stein, Visiting ELL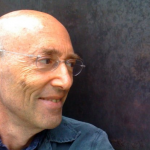 From March 13-March 13, 2019 the founder of The Voyager Company and The Institute for the Future of the Book, Bob Stein, will visit ELL. We will interview him, via our Live Stream YouTube channel, on Thursday, March 14.
The Voyager Company, considered the premier publishing house for multimedia book environments, produced close to 75 titles––such as "If Monks Had Macs," Laurie Anderson's "Puppet Motel," and William Gibson's Neuromancer––on laserdiscs and CD-ROMs in the 1980s and 1990s. ELL holds numerous Voyager publications in The Grigar Collection as well as in ELO's various collections.
The Institute for the Future of the Book with offices in NYC, London, and Brisbane, describes itself as a "small think-and-do tank investigating the evolution of intellectual discourse as it shifts from printed pages to networked screens." Among its many projects are "Expressive Processing," "The Googlization of Everything," and "if:book." Its mission states:
The printed page is giving way to the networked screen. The Institute for the Future of the Book seeks to chronicle this shift, and impact its development in a positive direction. The Institute is a project of the Annenberg Center for Communication at the University of Southern California, and is based in Brooklyn, New York.
Bio of Bob Stein (from The Future of the Book Website)
(New York-London) Bob is founder and Co-Director of the Institute and founder of The Voyager Company. For 13 years he led the development of over 300 titles in 'The Criterion Collection', a series of definitive films on videodisc, and more than 75 CD ROM titles including the CD Companion to Beethoven's Ninth Symphony, 'Who Built America', and the Voyager edition of 'Macbeth'. Previous to Voyager, Stein worked with Alan Kay in the Research Group at Atari on a variety of electronic publishing projects. 11 years ago, Stein started 'Night Kitchen' to develop authoring tools for the next generation of electronic publishing. That work is now being continued at the Institute for the Future of the Book.
More information about the interview will be provided here. Stay tuned!