Curiosities of the Curious Mind of Artist Alan Sondheim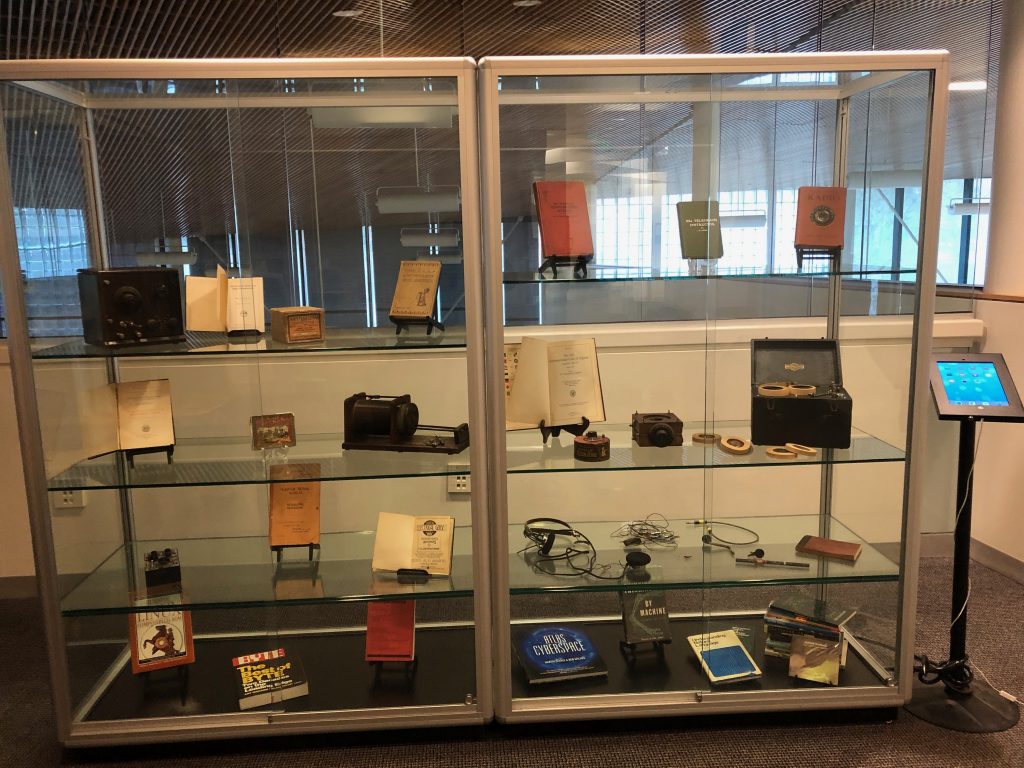 This spring international artist Alan Sondheim donated his vast archives of his experimental videos, electronic literature, VR animations, sound work, and music to Electronic Literature Organization. Among the hundreds of digital files were physical artifacts of vintage radio and signaling components and rare books and manuals. "Curiosities of the Curious Mind of Artist Alan Sondheim" features some of the more interesting items from the collection. They reflect the broad intellectual interests of this media artist.
Left Cabinet
Top Shelf
Radio Receiver, circa 1920s.
The Principles Underlying Radio Communication. Radio Pamphlet No. 40. December 10, 1918. Signal Corps, U. S. Army. Washington : Government Printing Office, 1919.
Hammarlund (Model "C") Condenser. Pat. U. S. & Foreign Countries. Hammarlund Manufacturing Co. 424 – 438 West 33rd Street, New York N. Y.
Things a Boy Should Know About Electricity 5thEdition, by Thomas M. St. John. New York, New York, 1901.
Second Shelf
A Library of Universal Literature in Four Parts. Part One: Scienceby G. W. de Tunzelmann, B.sc. P. NY, NY: F. Collier and Son, 1900.
Trips, by Japhet Jenkins and Sam Slink (case for an old film).
Electric Signal Relay.
Third Shelf
Small Box with Dials and Numbers and Buttons.
R.A.F.V.R. (Royal Air Force Volunteer Reserve) Signal Manual. Air Publications 1713, by Command of the Air Council. June 1939. Issued for the information and Guidance for All Concerned.
Hawkins Electrical Guide Number Eight, by Hawkins and Staff. Theo Audel & Co. 1917.
Bottom Shelf
Running Linux, with Companion CD-ROM, 2ndEd., by Marc Ewing. Bonn, Germany: O'Reilly and Associates and Red Hat Associates, Inc., 1996.
The Best of BYTE: Two Decades on the Leading Edge, by Jay Ranade and Alan Nash, Editors. NY, NY: McGraw-Hill, 1994.</li?>
The Computer Contradictionary, 2ndEdition, by Stan Kelly-Bootle. Cambridge, MA: The MIT Press, 1995.
Right Cabinet
Top Shelf
The Wireless Experimenters Manual, by Elmer E. Bucher. NY, NY: Wireless Press, Inc., 1920.
The Telegraph Instructor, 4th and Revised Edition, by G.M. Dodge. Self-published. Valparaisi, IN 1908.
Practical Radio, by Henry Smith Williams. NY, NY: Funk & Wagnalls,1924.
Second Shelf
The 1931 International Code of Signals, American Edition: Volume 1: For Visual and Sound Signaling. Sold by the Hydrographic Office of Under the Authority of the Secretary of the Navy. Washington, DC, Reprinted 1937.
The Famous Geppert Kleertone Radio Antenna, circa 1920s.
Vintage Radio Tuner.
Instructograph Morse Code Training Device, circa 1920s.
4 reels of tapes for the Instructograph
Third Shelf
Headphones.
Wires and conductor clips.
Miscellaneous electrical items.
Field Message Book. U.S. Army, Signal Corps Form No, 217A. 1917.
Bottom Shelf
Atlas of Cyberspace, by Martin Dodge and Rob Kitchen. Harlow, England: Addison-Wesley, 2001.
Thinking by Machine, by Pierre de Latil, with Foreward by Isaac Asimov. Boston, MA: Houghton-Mifflin, 1957.
Understanding Natural Language, by Terry Winograd. NY, NY: Academic Press, NY, 1972.
Information Theory and Esthetic Perception, by Abraham Moles, translated by Joel. E. Cohen. Urbana, IL: U of Illinois Press, 1966.