The World Is Not Done Yet, and Nor Are We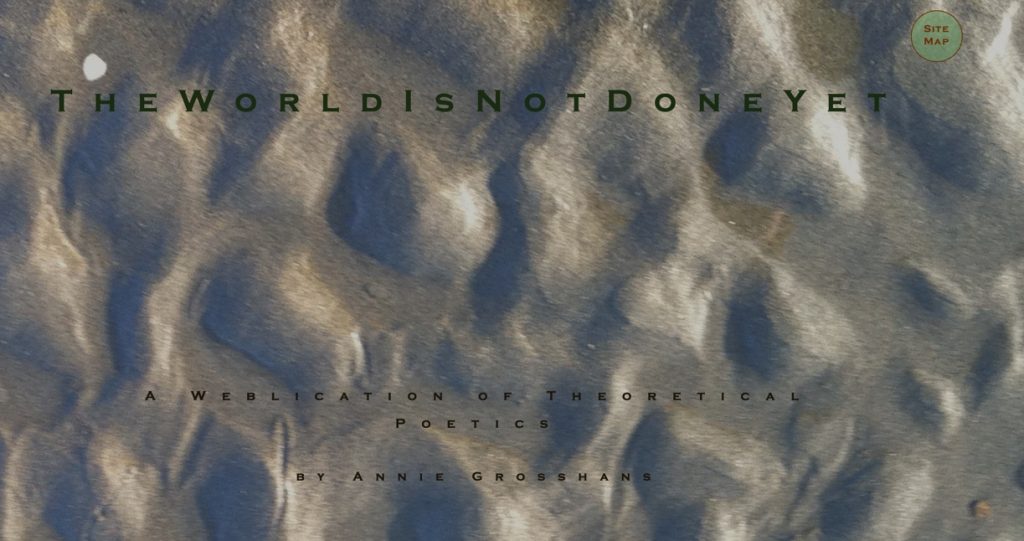 Yesterday Seattle artist Annie Grosshans visited the lab to talk to us about her "weblication," The World Is Not Done Yet, a non-fiction work that ruminates about the shift from the world of print to the world of digital media. Created in 2013 with Adobe Muse, this insightful and moving work of electronic literature may eventually become inaccessible to the public because on March 26, 2020 Adobe will no longer support Muse. [1]
For those of you who are not familiar with Muse, it is a drag and drop system for building websites for desktop, tablet and mobile devices. It reminds me of the old iWeb software program offered by Apple. Unlike contemporary template based web software like Wix and Squarespace, however, Muse allows users to transport and control their files. That is the good news. The bad news is that the program does not build sites with HTML5, and the many cool widgets the program offers are built with a special Adobe version of XML called MuCow (Muse Configurable Options Widget). Thus, websites produced with Muse are not following current web standards, and without ongoing support they will deprecate over time.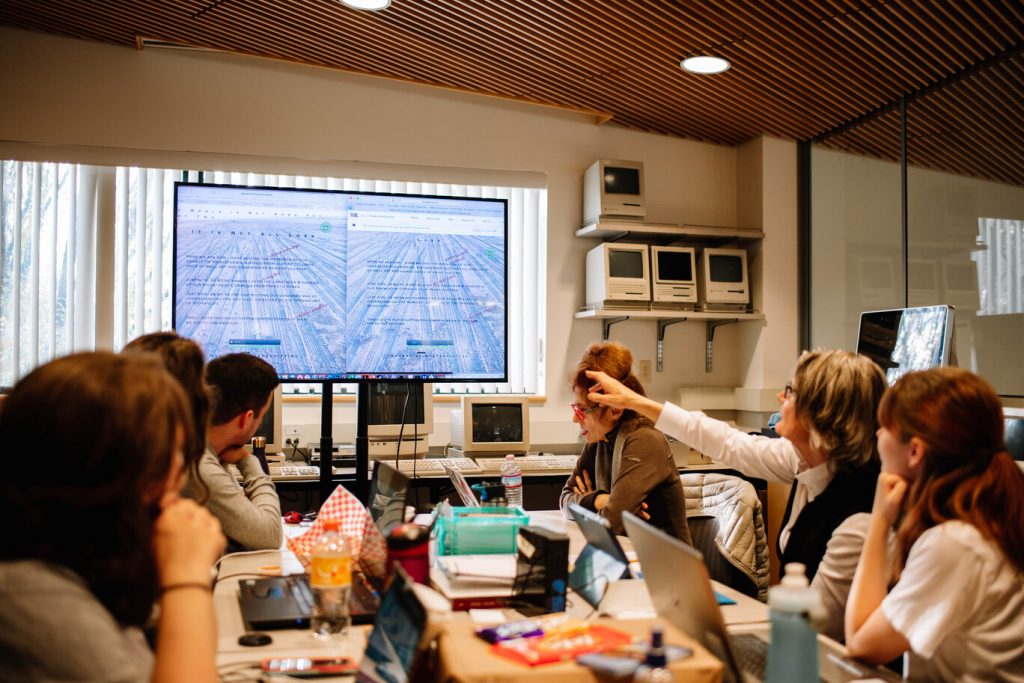 The point of our meeting with Annie, therefore, was to talk about ways to preserve her web essay and keep it accessible for future audiences.
One solution is to capture the files associated with the work with with Rhizome's Webrecorder. This approach does not alter the work itself; rather, it records the browser it works with. This is the method we aim to use for the Afterflash project to preserve works built with Flash and Shockwave, two other software programs Adobe no longer supports. Another is to rebuild the work with HTML5, CSS3, and Javascript. This approach will take more time than simply capturing it with Webrecorder, but it will allow us to fix some of the anomalies currently in the code.
I encourage you all to read The World Is Not Done Yet. The writing is excellent, and the subject matter is timely. Those of you interested in ways to display multi-vocality will find Annie's strategy for presenting it quite compelling. The use of sound, especially, contributes to the contemplative tone of the work.
My final comment is that unless obsolescence does not bother you and you don't mind that your work is short-lived, do not create born digital literature with any proprietary software. You just cannot count on companies to maintain it over time.
Notes
[1] As the company states: "[I]t is quite possible that web standards and browsers will continue to change after Adobe stops support for the application. After March 26, 2020 Adobe will no longer deliver compatibility updates with the Mac and Windows OS, or fix any bugs that might crop up when publishing Adobe Muse sites to the web." https://helpx.adobe.com/muse/kb/adobe-muse-end-of-service.html