Collect, Not Correct: A Response to the U.S. National Archives' Alteration of an Image from the 2017 Women's March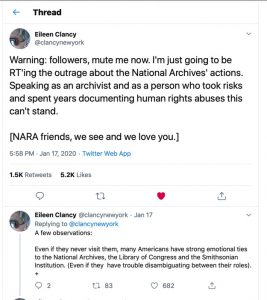 The news that the U.S. National Archives had altered an image from the 2017 Women's March to tone down political messages and references to women's bodies spread quickly on Twitter and generated what can be considered condemnation for the deed. On January 18, the day of the 2020 Women's March, the U.S. National Archives posted this apology:
We made a mistake.

As the National Archives of the United States, we are and have always been completely committed to preserving our archival holdings, without alteration.

In an elevator lobby promotional display for our current exhibit on the 19th Amendment, we obscured some words on protest signs in a photo of the 2017 Women's March. This photo is not an archival record held by the National Archives, but one we licensed to use as a promotional graphic. Nonetheless, we were wrong to alter the image.

We have removed the current display and will replace it as soon as possible with one that uses the unaltered image.

We apologize, and will immediately start a thorough review of our exhibit policies and procedures so that this does not happen again.
While I am glad to see this promise, my response to this aberrant behavior is a simple one: "Collect, Not Correct." In other words, it is the duty of archivists to maintain records for the public to access and study. What is NOT within their purview is to make changes to those records, to doctor them in any way, especially in response to politics.
This is an important and timely issue, for my lab now manages 25 collections of born-digital literature on behalf of the Electronic Literature Organization. Held in those collections are documents relating to personal exchanges between and among artists, contract negotiations with publishers, personal notebooks, doodles, and early versions of work. Many of the materials are sensitive in nature. Our job is to ensure these records' durability and their access to the public. It is not our job to redact information, change documents, fiddle around with the media in any way. We ingest the work, inventory it, and make it available. We do not alter it.
It was satisfying to see the quick response by the U.S. National Archives. One can only hope that this event is a unique one that will not be repeated. But with the current state of politics in the U.S. we need to remain watchful and aware.