Reconstituting Annie Grosshans' "The World Is Not Done Yet"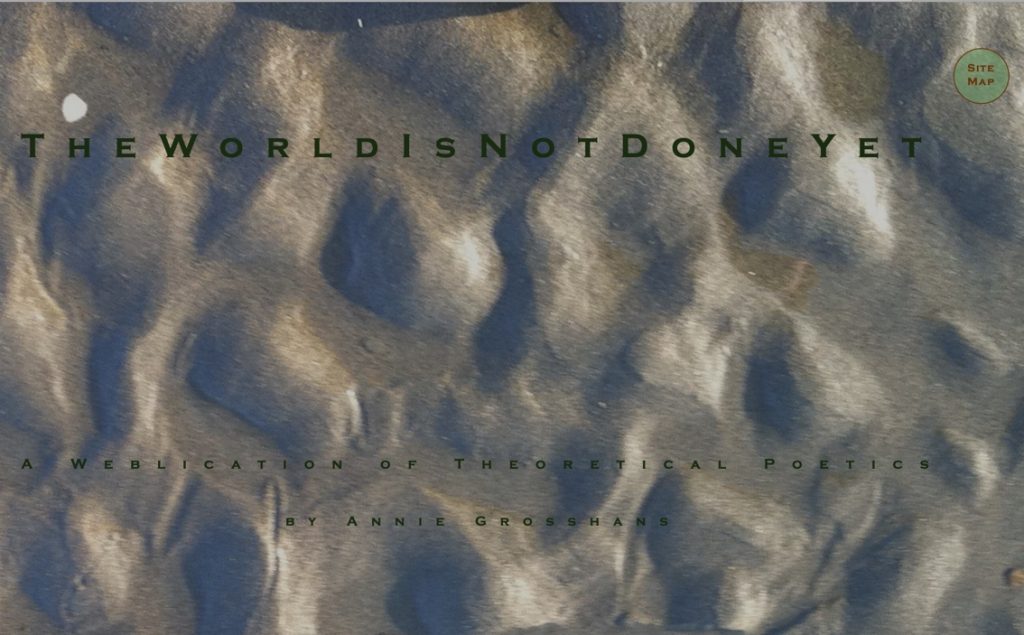 This week we kick off our new project: to reconstitute Annie Grosshans' personal narrative, The World Is Not Done Yet. Called "[a] weblication of theoretical poetics," the work was originally produced with Adobe Muse, another in a series of software programs––like Flash and Shockwave––that Adobe sold to the public but then later decided no longer to support. The date the company gives for its "end of service" (Adobe) is March 26, 2020. To keep Annie's moving multi-vocal story for the web accessible to the public, therefore, we will be capturing it with the Rhizome Webrecorder and doing a few other tasks to update the work for continued accessibility.
Updates include making it more responsive for mobile media, ensuring ADA compliance, improving its findability, simplifying the navigation, updating the sound delivery, implementing the site map, creating an Acknowledgements page, setting up a SSL, conducting usability testing on the site, and situating the work with a ISP. We also plan to help the artist make clear in interface the notion of multiple voices by revamping the typeface and placement on the page so that they are aligned better and more consistently and make clear they are different voices, as well as structure the work so that tabs are used for Chapbooks, StraightTalks and SheStatements but do not disrupt the main narrative flow of the work.
Note that we plan to keep a copy of the original version of the work in archive so that future scholars can study the its development over time. We also will be documenting our endeavors so that there is a record of our interventions into the work.
We are excited about working with Annie and keeping her work alive for future audiences. One of the many joys of working in this lab is this very activity. As our hashtag states, "elitrocks."