Live Playthrough/Traversal/Performance of Robert DiChiara's "A Sucker in Spades"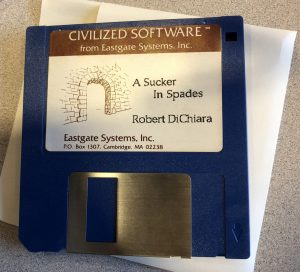 Friday, 9/11, 2020
11 a.m.-12:15 p.m. PDT
Live on YouTube: https://www.youtube.com/channel/UCzeZQ05p_1Tli0lDBeWMxOA/live
#ELitLab
Join us for a live YouTube event: A playthrough of Robert DiChiara's detective-adventure game, "A Sucker in Spades" (1988). For the playthrough we'll be using the 3.5-inch floppy disk on which the work was originally published and a Macintosh Classic running System Software 6.0.3. Performing the work are Mariusz Pisarski, an electronic literature researcher, editor, producer, and translator and Dene Grigar, director of the Electronic Literature Lab at Washington State University. Safety precautions due to COVID-19 means we will be using a combination of Zoom, YouTube, and OBS software to allow Pisarski, located in London, to remotely guide Grigar to navigate the work from her lab in Vancouver, WA.
Schedule
11-11:15 p.m.: Grigar's introductory comments
11:15-12:30 p.m.: Pisarski's Playthrough
12:30-12:45: Q&A with Pisarski and Grigar
Media Channels
YouTube: https://www.youtube.com/channel/UCzeZQ05p_1Tli0lDBeWMxOA/live
Facebook: https://www.facebook.com/elitpathfinders/
Twitter: #ELitLab
During the event we will be posting photos and commentary on Facebook and Twitter.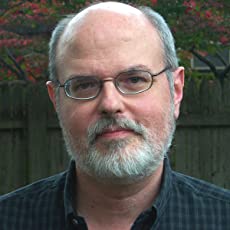 About Robert DiChiara
Robert DiChiara is well known as an author of detective novels. Hard Boiled was published by A Totem Book (Canada) in 1986 and The Dick and the Devil, in 1989 by Tor Books. Many others––Alibis (1996) and Razor Tongue (2011) followed. Like a lot of writers in the late 1980s he was curious about interactive games and fiction. The result was the first interactive game narrative based on the detective genre. [2]
About A Sucker in Spades
Based on a novella by the same name, "A Sucker in Spades" was published by Eastgate Systems, Inc. in 1988. [1] It was built on the company's platform, Hypergate, an early authoring system programmed with FORTH––a language created in 1970 by Chuck Moore that was used in 1984 for the development of first Macintosh computer and which also formed the basis for EA's game, Starflight (1986). Like other works of interactive fiction, DiChiara's work constitutes an adventure.
Never Be Fooled Again!" Tired of being played for a sap? Does old routine get on your nerves? The ACE Lie Detector course is what you need to get to the top of the field!
"A Sucker in Spades" involves managing assets. Readers can decide just how much "muscle," "magnetism," and "moxie" they need to overpower, overcome, and outwit the story's many antagonists. Making the wrong decision costs points and possibly readers' ability to solve the mystery.
In keeping with the genre of the hard-boiled detective novels of the 1930s, "A Sucker in Spades" maintains the language of The Maltese Falcon (Re: Sam Spade) and others where women are "dames" and men who fall for them, "saps," where gumshoes have loyal secretaries, and where the police are determined to stop interlopers––like Private Eyes–– from interfering with their cases.
Like all works produced with Hypergate, "A Sucker in Spades" was never migrated to Storyspace, the software and interactive-hypertext platform Eastgate Systems, Inc. later built its reputation on; or to CD-ROM when that technology became available; or for the PC environment when the company began publishing works for the Windows operating system.
"A Sucker in Spades" is an important work to study in the history of interactive media because it (and others like it) represent that moment when interactive media branched into, on one side, Storyspace literature, and the other, interactive games. Only one other work published by Eastgate Systems, Inc. matches the aesthetic and the gameful quality of the Hypergate works: John McDaid's Uncle Buddy's Phantom Funhouse, published in 1992. It is interesting to note that it created on the Hypercard platform.
It is important to note that DiChiara credits several people for helping to develop the work. Colleen E. Humphreys, Mark Bernstein, and DiChiara are listed as programmers. Jack Snyder created the art and typography. [3]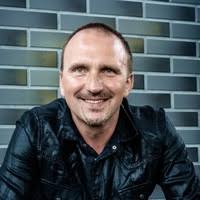 About Mariusz Pisarski
Mariusz Pisarski is an electronic literature researcher, editor, producer and translator. He is the author of "Xanadu: Hypertextual metamorphosis of fiction" (Kraków, 2013) and holds a PhD on communication and semiotics of new media from Adam Mickiewicz University in Poznan, Poland. In 2012 his dissertation received an award from the National Centre for Culture (Warsaw). His digital literary projects, as well as talks about digital art and culture, have been presented at contemporary art spaces in Paris (Centre Georges Pompidou, Biblioteque Francais), Warsaw (Galeria Foksal, Czuły Barbarzyńca), Kraków (Bunkier Sztuki, Mocak), Polish Institute in Bratislava, Kosice and Vancouver. His translations of American digital literature include hypertext novels afternoon, a storyand Twilight. A Symphony by Michael Joyce; Hypertextual Counsciousness by Mark Amerika, L0ve0ne by Judy Malloy; Hegirascope by Stuart Moulthrop; and Sea and Spar Between by Stephanie Strickland and Nick Montfort (with Monika Górska-Olesińska). He also serves as editor of "Techsty" – journal on new media and literature and creative director for multimedia in Korporacja Ha!art from Cracow. Pisarski has joined the Electronic Literature Lab at Washington State University as a Research Affiliate in 2020-2021.
Notes
[1] Hard-Boiled: Three Tough Cases for the Private Eye with Smarts was published by David R. Grodine, Publisher, Inc. (Boston, MA). The ISBN number is 0-87923-554-3. The print version of this work is simply entitled "Sucker in Spades" while the electronic version is labeled on the disk as "A Sucker in Spades." The two other works included with "Sucker in Spades" are "The Hot Stick" and "Money Never Bleeds."
[2] Information about the author found on the floppy disk says that at the time the work was published DiChiara was teaching in a department of English and "writing more stories." It also says that "Sucker in Spades" is "based on a concept by Walt Raubicheck." I tracked down Raudibcheck on the Humanities Commons site in the hopes that he may provide some insights into the work–and perhaps the location of the author.
[3] The type used for the work is Alderney and Palencia, both created by Andrew Welch (of Mark 3 Software of Wilton, CT). As DiChiara writes: "These attractive fonts were specifically designed for us with medium-resolution computer screen, and combine elegance with clarity and legibility."