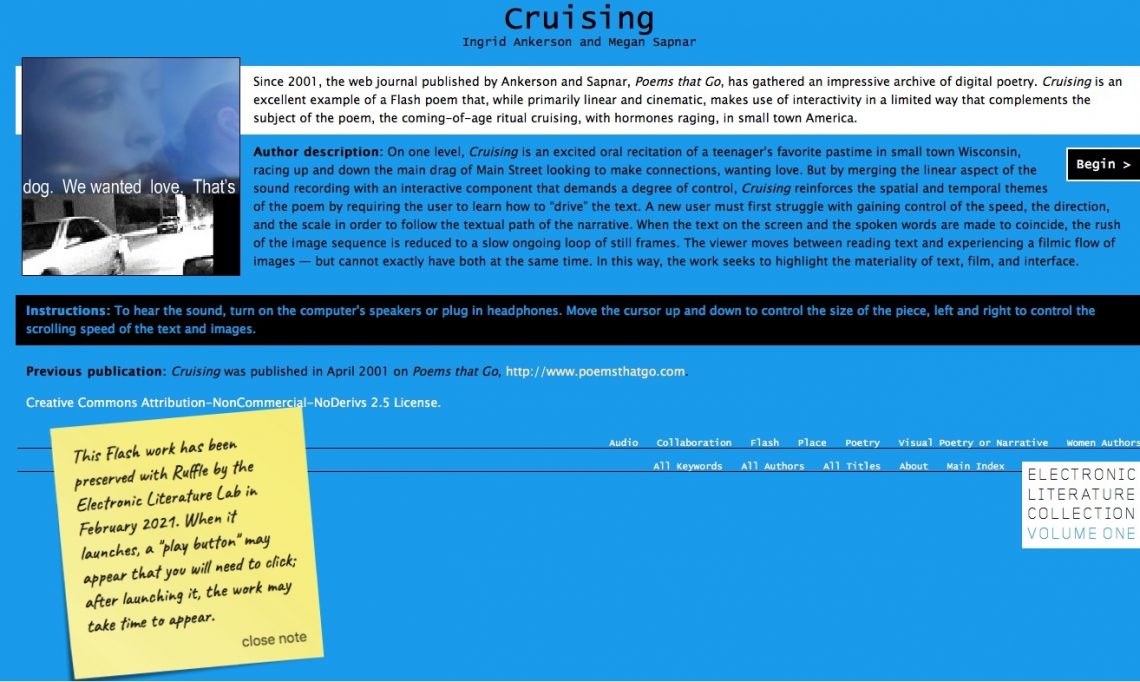 Ruffle Preservation Report #3
This third report continues with our updates about the lab's efforts to save Flash e-lit.
What Has Been Preserved Thus Far
We finished preserving the Flash works published in the Electronic Literature Collections (ELC) 1, 2 & 3, Cauldron & Net, Word Circuits, and frAme. Yesterday Andrew Thompson and Arlo Ptolemy (the Ruff Rangers, as we now call them) began implementing Ruffle to the 37 works published in the 14 volumes of Poems That Go from 2001 to 2003.
Ruffle Success Rate
Here is the number of Flash works we have been able to save from each of the six publications:
ELC 1: 12 of 26
ELC 2: 1 of 20
ELC 3: 4 of 16
Cauldron & Net: 6 of 10
Word Circuits: 3 of 5
frAme: 4 of 5
In sum, of the 82 Flash works we have tried to preserve with Ruffle, only 30 could be––a little over a 30% success rate. Some of the problems relate not to Ruffle but to missing files, as in Mez Breeze's "_Clo[h!]neing God N Ange-Ls_" published in Cauldron & Net Volume 4, or dead links as in Deena Larsen and Matt Hanson's "Carving in Possibilities." In regard to the latter issue, we could, with permission of the authors, fix the code. But most of the works, like David Hadbawnik's "Bus / Evening: 42 to 71" published in Cauldron & Net Volume 3, cannot be preserved because Ruffle cannot yet handle complex audio files. Video also poses challenges, making it not possible to bring back Stephanie Stickland's "slippingglimpse" published in ELC 2.
Special Note: We have moved the ELC 1 and 2 to the server and plan to move the rest of those we have completed next week.
Scholarly Commentary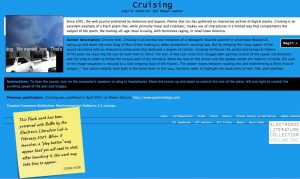 As we prepare the works for release to the public, we have been adding a scholarly commentary to their launch page that calls attention to our intervention. Holly Slocum, the lab's designer/project manager, and Greg Philbrook, our tech guru, modified the note that we created when we resurrected trAce Online Writing Centre's frAme journal two years ago. This approach saw us apply a yellow sticky note with information regarding missing information or interventions we made to the work in order for it to be accessible to the public. For this Flash preservation project, if we were able to preserve the work, the note reads: "This Flash work has been preserved with Ruffle by the Electronic Literature Lab in February 2021. When it launches, a "play button" may appear that you will need to click; after launching it, the work may take time to appear." If we could not preserve the work, the note reads: "The Electronic Literature Lab could not preserve this Flash work with Ruffle in February 2021. We do plan to preserve it with Conifer at a later date."
Adding Works Preserved with Ruffle back on to the Server
One lesson Greg learned when moving the newly preserved works to the ELO server is that Ruffle doesn't like having its core JS files on eliterature.org and the html file referencing it sitting on collection.eliterature.org. Even though one is a subdomain of the other, the cross-domain origin was causing an issue. He said he could have made a change in our Apache config but rather not do so since it would mean making changes to the entire server for this project––especially changes that could introduce security issues. What he did instead was place the Ruffle install at the root of collection.eliterature.org. Then, he did a multi-file search/replace in the team's work. Specifically, he changed:<script src="https://eliterature.org/ruffle/web/ruffle.js"></script>to <script src="https://collection.eliterature.org/ruffle/ruffle.js"></script>. We will need to do the same for the other collections as we load them to the server. Wherever they sit, we will need to reference an instance of Ruffle on the same domain or subdomain. Relative links would also work, but might be messier depending on the depth of the files you edit.