PIs:  Drs. Brett Oppegaard & Dene Grigar, The Creative Media & Digital Culture Program, Washington State University Vancouver
Funding:   2012 We the People Grant, National Endowment for the Humanities; Start-Up Grant, Office of Digital Humanities; 2011 National Endowment for the Humanities; 2011 and 2010 Clark County Historic Promotions Grant; 2010 WSUV Research Mini-Grant
Awards: 2013 John Wesley Powell Prize for outstanding achievement in historical displays; 2013 Historic Preservation Officer's Award for media, from the Washington State Department of Archaeology and Historic Preservation;  National Park Service's George and Helen Hartzog Award for Outstanding Volunteer Service for  research at Fort Vancouver
Site: http://fortvancouvermobilesubrosa.blogspot.com
Fort Vancouver Mobile  is a ground-breaking mobile app, created for the Fort Vancouver National Historic Site and funded by the National Endowment for the Humanities with a $50,000 Digital Start-Up Grant awarded to Dr. Dene Grigar and Professor Brett Oppegaard. A collaboration among many partners, including the historic site staff and volunteers; new media scholars and students at Washington State University Vancouver, Texas Tech University and Portland State University; and several regional media and web development professionals, the project has received other developmental funding from the Clark County Commissioners, via the Historical Promotion Grant program, as well as seed grants from Washington State University Vancouver as well as the college's Creative Media and Digital Culture program.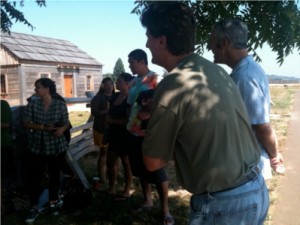 The Fort Vancouver National Historic Site, which attracts more than 1 million annual visitors to its Vancouver campus, is the most popular historical attraction in the Portland-Vancouver metropolitan area.  It also is a major archaeological resource, with more than 2 million artifacts in its collection. Most of those pieces, gathered from more than 50 years of excavations, are kept in warehouses, along with the boxes of documents, drawings and other assorted historical records in storage that, because of severely limited physical access, obscures the fascinating and multicultural history of the place, once dubbed the "New York of the Pacific." The fort site served as the early end of the Oregon Trail, the regional headquarters of the British Hudson's Bay Company's massive fur empire and the first U.S. Army post in the Northwest.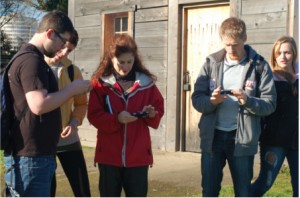 The Fort Vancouver Mobile team, with the help of dozens of volunteers from throughout the community, has produced original media, based on historical records, throughout The Village area of the site. These clips of audio, video, animation and text are intended to complement the physical environment and create visitor interactions (or events) that meld the past with the present, the physical with the digital.