For the past six months Greg Philbrook and I have worked to conceptualize my poem, Curlew, for an interactive, multimedia experience.  It has been a pretty angst-less endeavor, thanks to Greg's massive coding skills (as well as his DTC training training in multimedia design, I have to add) and artists who collaborated with us to produce the videos and soundscapes. He and I had worked enough with the Kinect system during the previous year with the iSci project to the point where we both knew what Kinect's constraints were and could work around them in order to produce a compelling piece.  In the end we designed three different versions of Curlew to accommodate a variety of spaces and experiences, from a 3-wall performance environment to an installation for galleries that either loops or allows for audience interaction.  Coming in December is the web-based app book version for tablets.
Today, I mount the Curlew installation version in the Royal Palace in Naples Italy where those of us invited to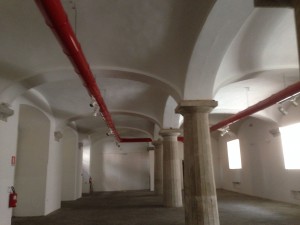 exhibit our work at the OLE.01 Festival of Electronic Literature will be featured.  Curlew will run in its interactive mode until Saturday and, then, after I leave, in its looping mode.  The festival runs through the month of October.  It will be also featured in the documentary film on the OLE.01 Festival that the festival creator, Raffaele Masucci, is having made, and in the published book of proceedings that he is editing.
Greg and I plan to submit Curlew to the ELO media art show taking place in Bergen, Norway in August 2015.  It will also be featured at Nouspace in its December show when it kicks off its move to shared space with Angst Gallery in downtown Vancouver.
I will be posting images and video of the exhibit here for the next few days.  In the meantime, here is the archival site for the project and the link to OLE.01.  Here is also the curatorial plan for the Master Exhibit.  It is an honor to be among so many distinguished international artists.

——
Stymied by not packing enough adaptors for the electrical outlet, I set up the looping version to make sure the work looks good on the monitor. I will need to adjust the lights glaring on the screen next.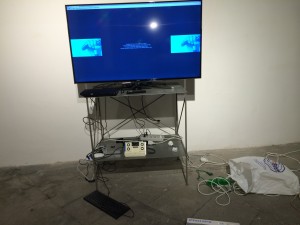 The MOVE (Motion Tracking, Virtual Environment) Lab is explores combining sensor-based physical computing with virtual and augmented reality technologies for education, business, communication, and art.


Director: Dr. Dene Grigar, The Creative Media & Digital Culture Program at Washington State University Vancouver.


Research Assistant: Greg Philbrook, B.A., CMDC Program

We were pleased to supervise the research of Catlin Gabel senior Marina Dimitrov, who undertook AR as the topic of her senior project. Marina will attend Stanford University in the fall to study Engineering. A summary of her project is online on her blog.