About


Dene Grigar is an Associate Professor and Director of The Creative Media & Digital Culture Program at Washington State University Vancouver who works in the area of electronic literature, emergent technology and cognition, and ephemera. She is the author of net art works, like "Fallow Field: A Story in Two Parts" and "The Jungfrau Tapes: A Conversation with Diana Slattery about The Glide Project," both of which have appeared in The Iowa Review Web, and multimedia performances and installations, like When Ghosts Will Die (with Canadian multimedia artist Steve Gibson), a piece that experiments with motion tracking technology to produce networked multimedia narratives. Her most recent projects include the "Fort Vancouver Mobile" and "The Grand Emporium of the West," projects funded by a 2011 NEH Start Up grant and a 2012 "We the People" grant, respectively, that focus on location-aware nonfiction content for mobile phones to be used at the Fort Vancouver National Historic Site. She is also Associate Editor of Leonardo Reviews and Vice President of the Electronic Literature Organization.
Grigar has curated nine exhibits since 2005, including those for the Planetary Colleguim, the ELO 2008 and ELO 2012, the MLA 2012 and MLA 2013. Upcoming exhibits she will curate includes a showcase at the 2013 Digital Humanities Summer Institute at the University of Victoria and an exhibit at Illuminations, the gallery for the School of English, Media, and Theatre Studies at the National University of Ireland Maynooth, in March 2014. She is the Founding Director of Nouspace Gallery & Media Lounge, the gallery located in downtown Vancouver associated with the CMDC Program.
Personal Website: http://www.nouspace.net/dene
Program Website: http://dtc-wsuv.org/cmdc
Contact: dgrigar@vancouver.wsu.edu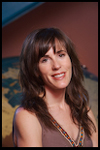 Kathi Inman Berens teaches at the University of Southern California's Annenberg School of Communication and is a Fellow at the Annenberg Innovation Lab, where she works on virtual classroom software and embodiment. She also teaches at Marylhurst University in their new Digital Humanities program, which launched Jan. 2013.  Her class, co-taught with Jesse Stommel, created a spine poetry project to raise awareness of the "Electronic Literature and Its Emerging Forms" exhibit at the Library.  This video explains how anybody can get involved. She curates and researches electronic literature.
She teaches and researches transmedia branding, communication interfaces and hybrid pedagogy. In 2013 she will edit the section on "Interface" for the Digital Pedagogy Toolkit and Reader (eds. Frost David, Gold, Harris and Sayers), curate the Electronic Literature Showcase at the Library of Congress with Drs. Dene Grigar and Susan Garfinkel, and publish articles about the procedural rhetoric of racism and the fascistic cooptation of aura in the iOS. She will continue her work testing IBM's proprietary software and teaching in simultaneously virtual and embodied environments, an initiative for which she won an IBM Faculty Award.  Her first digital poem, "Tournedo Gorge," was exhibited at the Ars Technologika show Dec. 7-29, 2012 and is published in Ailementum: the Literature of Food (Winter 2013).
Website: http://kathiiberens.com
inmanber [at] usc [dot] edu