Amaranth Borsuk & Brad Bouse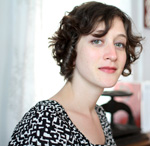 Amaranth Borsuk is the author of Handiwork (Slope Editions, 2012), and, together with programmer Brad Bouse, of Between Page and Screen (Siglio Press, 2012), a book of augmented-reality poems. Her poems, translations, essays, and reviews have appeared widely in print and online. Her collaboration with Kate Durbin and Ian Hatcher, Abra, recently received an Expanded Artists' Books grant from the Center for Book and Paper Arts in Chicago and will be issued as an artist's book and iPad app in fall of 2013. She teaches in the MFA in Creative Writing and Poetics at the University of Washington, Bothell.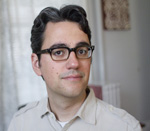 Brad Bouse is a developer and designer whose work focuses on the intersection of art and technology. He's designed and built interfaces for advertising agencies, large media companies, and web startups. He currently advises early stage web companies about user experience and product design.
To learn more about Amaranth's work, visit: http://amaranthborsuk.com
To learn more about Brad's work, visit: http://bradbouse.com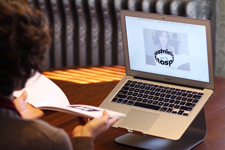 About Between Page and Screen
Between Page and Screen merges the book arts and e-poetry traditions, trespassing the boundary between print and digital, old and new media. The book's pages contain no text, only black and white geometric shapes and a web address leading to betweenpageandscreen.com, where the book may be read using any browser and a webcam. Reflected on screen, the reader sees him or herself with open book in hand, language springing alive and shape-shifting with each turn of the page. The poems that appear, a series of letters written by P and S, two lovers struggling to map the boundaries of their relationship, do not exist on either page or screen, but in the augmented space between them opened up by the reader.