Erik Loyer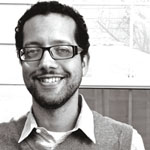 Erik Loyer creates interactive stories that are played like instruments. Combining elements drawn from video games and comic books with dynamic music and gestural control, his works have garnered international recognition. Loyer founded Opertoon in 2008 to explore the storytelling potential of gesture-sensitive devices, creating and publishing tactile narratives Ruben & Lullaby and Strange Rain for iPad and iPhone, and now Upgrade Soul, a digital graphic novel written and illustrated by Ezra Claytan Daniels. Loyer designs cultural software applications for a variety of clients across the United States, and is the Creative Director of the Alliance for Networking Visual Culture.
To learn more about Erik's work, visit: http://erikloyer.com
Contact: erikcloyer@gmail.com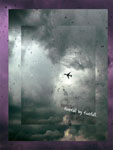 About Strange Rain
Strange Rain turns the iPad or iPhone into a portable skylight on a rainy day. Raindrops fall and splatter on your screen, shifting as you tilt your device like a hand-held camera. As you touch the screen you can guide the path of the raindrops, stepping through the notes of an mysterious melody as you go. The more you touch, the more strange the rain becomes: layered skies, changes in speed and color, story fragments, and other surprises overtake the screen. It feels as if you're holding a living window in your hands.
Strange Rain has four play modes. In "wordless" mode, you can simply enjoy the sights and sounds of the falling rain. In "whispers" mode, touching the screen causes some raindrops to turn into words as they fall—words inspired by the qualities of rain.
In "story" mode, every touch triggers a thought as text on the screen. These thoughts tell the story of a man in the midst of a family crisis who has wandered into the rain to collect his thoughts. His world, too, has gone from familiar to strange, and your interaction helps determine when and how he decides to come in from the rain. A fourth mode, "feeds," displays the results of a Twitter search in response to each gesture. A unique combination of touchscreen play and interactive storytelling, the living sky of Strange Rain can be explored in many ways.