Jason Edward Lewis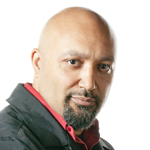 Jason Edward Lewis is a digital media artist, poet and software designer. He founded Obx Laboratory for Experimental Media, where he directs research/creation projects devising new means of creating and reading digital texts and developing systems for creative use of mobile technology. His creative work has been featured at the Electronic Literature Organization (ELO), Ars Electronica Center, ISEA, SIGGRAPH, Urban Screens, and Mobilefest, among other venues, his writing about new media has been presented at conferences, festivals and exhibitions on four continents, and his work has won awards at the ELO, Ars Electronica, and imagineNative events. He is currently an Associate Professor of Computation Arts at Concordia University in Montreal.
To learn more about Jason's work, visit: http://www.obxlabs.net
Contact: jason.lewis@concordia.ca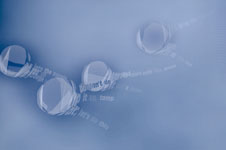 About The P.O.E.M.M. Cycle
The P.o.E.M.M. Cycle (Poetry for Excitable [Mobile] Media ) is a series of interactive touch text-works about making sense of crazy talk & kid talk, the meanings of different shades of purple, the conundrums of being a Cherokee boy adopted by Anglos and raised in northern California mountain country, and the importance of calling a sundae a sundae. The cycle consists of ten multi-model, multi-platform works, each in four versions: large-scale wall, tablet and phone touch surfaces, plus printed text-images. All of the works in The P.o.E.M.M. Cycle engage the question of how we talk to one another, how we locate ourselves in wider cultural geographies, how we authenticate ourselves against our own expectations and that of others, and how matters that are once seen as so vital—so essential—can later be regarded as contingent.
The mobile app version of each of the ten P.o.E.M.M.s are published in five successive versions that explore different modes of authorship, collaboration and distribution:
1) Original Poetry: a personal text-work, written and designed by J Lewis
2) Curated Poetry: five invited writers write new texts for the same app
3) Open Platform: the reader can write her own text, or choose any Twitter or RSS feed as the source text
4) Shared Document: app users can share customized versions of the poem with one another
5) Open Source: the code for both exhibition and mobile versions will be released under an open source license