M.D. Coverley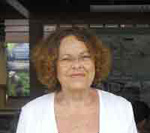 M.D. Coverley is the pen name for Marjorie Coverley Luesebrink.  Her full-length interactive, electronic novel, Califia, is available on CD-ROM from Eastgate Systems (2000). Her work, Egypt: The Book of Going Forth by Day was published in 2006. Copies can be ordered on her Website.  Coverley's current works-in-progress are Tin Towns and Other Excel Fictions and Tarim Tapestry.  She is a member of the Board of Directors of the Electronic Literature Organization.
To learn more about Margie's work, visit:  http://califia.us
Contact:  luesebr1@ix.netcom.com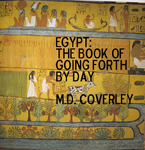 About Egypt:  The Book of Going Forth by Day
Egypt:  The Book of Going Forth by Day takes place in the present, the past, and infinity.  When Jeanette, a middle-aged teacher with grown children, receives a letter from her long-estranged brother, Ross, she decides to go to Egypt.  She arrives to find that her brother is engaged in some shady dealings in antiquities – and, before long, Ross disappears.  Like Isis before her, Jeanette spends the month following his mysterious trail down the Nile.  On the journey, secrets are revealed, and a reunification takes place during the days on the river, in the tombs of the past beneath the earth, and in the willing stars.  The narrative is told in three voices, the Ba voice of Jeanette – the Ka voice, which consists of Jeanette's letters to her sister, Nancy (Nepthys – the night, the tomb, the truth), and the Akh voice, which is the spiritual guide/voice of the eternal heavenly cycles and the spells of the Egyptian Book of the Dead.
The story interweaves the contemporary account, mythology, and history into a navigable world, mapped out as thr realms of the river, the sky, and the tomb.  The piece compresses space into "infinite manuscripts" – slices of time that connect in a never-ending scroll.
In the hand-made First Editions, each copy was individually recorded and was unique. Each version had a specially selected "Papyrus Spell" to guide the reader through the journey through the underworld.
This novel-like narrative was constructed in Director and is accessed on a Shockwave player.  It can be read on any Windows machine with a browser.  Inserting the CD-ROM, opening the Filelist for the disk, and then clicking on "Reader.htm" will open the Book.