Michael Mateas & Andrew Stern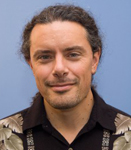 Michael Mateas' work explores artificial intelligence-based art and entertainment, forging a new research discipline called Expressive AI. He is Director of the Center for Games and Playable Media at UC Santa Cruz, which researches technology and design approaches that enable radically new game experiences. His work in interactive storytelling includes the interactive drama Façade and the social simulation game Prom Week.
Michael's contact info: michaelm@soe.ucsc.edu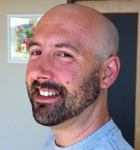 Andrew is an innovator in the design and engineering of personality-rich virtual characters, interactive stories, and social games. His projects include the interactive drama Façade, described as "the future of video games" by The New York Times, the world's first desktop virtual pets Dogz, Catz and Babyz, the #1 iPhone-charting virtual pet apps Touch Pets Dogs and Cats, and most recently the Strategic Social Interactions ("Good Stranger") Program (SSIM), a government-funded $37.5M multi-year R&D effort whose social mission is to aid the police and military to use less force when interacting with civilians.  Andrew has presented work at academic and industry conferences on AI, interactive art, artificial life and digital games, and was co-writer of the popular group blog grandtextauto.org about interactive narrative, games, poetry and art.
To learn more about Michael's and Andrew's work, visit: interactivestory.net, games.ucsc.edu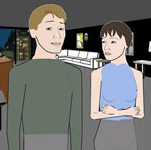 About Façade
Façade is an artificial intelligence-based art/research experiment in electronic narrative – an attempt to move beyond traditional branching or hyper-linked narrative to create a fully-realized, one-act interactive drama. Integrating an interdisciplinary set of artistic practices and artificial intelligence technologies, we have completed a five year collaboration to engineer a novel architecture for supporting emotional, interactive character behavior and drama-managed plot. Within this architecture we have built a dramatically interesting, real-time 3D virtual world inhabited by computer-controlled characters, in which the player experiences a story from a first-person perspective. Façade was publicly released as a freeware download / cd-rom in July 2005.
You, the player, using your own name and gender, play the character of a longtime friend of Grace and Trip, an attractive and materially successful couple in their early thirties. During an evening get-together at their apartment that quickly turns ugly, you become entangled in the high-conflict dissolution of Grace and Trip's marriage. No one is safe as the accusations fly, sides are taken and irreversible decisions are forced to be made. By the end of this intense one-act play you will have changed the course of Grace and Trip's lives – motivating you to re-play the drama to find out how your interaction could make things turn out differently the next time.