Stuart Moulthrop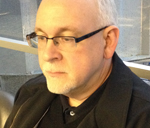 Stuart Moulthrop has produced many critically significant works of digital writing and art, beginning with various HyperCard experiments in the late 1980s, and the pre-Web hypertext Victory Garden (1991), which Robert Coover described on the front page of The New York Times Book Review as a "benchmark" for electronic literature. Early Web projects followed, including "Hegirascope" (1995) and "Reagan Library" (1999), both of which have been written about extensively. In the mid-90s Moulthrop co-edited the groundbreaking online journal Postmodern Culture, bringing out its first digital-only special issue. In 2000 he became a founding board member of the Electronic Literature Organization. In 2007 he released two Flash projects, "Deep Surface" and "Under Language," which won the international Ciutat de Vinarós Prize for Digital Narrative and shared the prize for Poetry. Since 2010, Moulthrop has been working on R, a multi-part experiment in re/sourced writing based on Michael Joyce's 2007 "novel of internet" called Was. The first phase of the project will appear toward the end of 2013. In 2011 Moulthrop was a visiting fellow at three Australian universities, and an In(ter)ventions resident at the Banff Centre for the Arts in Canada in 2013. He lives in Milwaukee, where he is Professor of English at the University of Wisconsin-Milwaukee.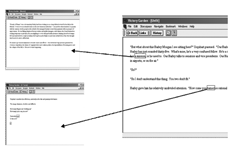 About Victory Garden
Victory Garden is a long-form hypertext fiction written in increasingly release-worthy versions of Bolter and Joyce's Storyspace application.  It was originally intended for the first-generation Apple Macintosh, with its monochrome (but multi-font!) screen whose size would these days suggest a dashboard nav system.  This was long in advance of e-books and tablets, and shortly before Myst, Doom, and Netscape Navigator unleashed their graphics revolutions; in a brief, fragile, twilight of the word.  The work was published in 1991 by Eastgate Systems, on the heels of Joyce's afternoon and a little ahead of John McDaid's Uncle Buddy's Phantom Funhouse and Shelley Jackson's Patchwork Girl.  Though Victory Garden has drawn some attention from novelists (Robert Coover kindly called it a "benchmark"; Sven Birkerts and Paul LaFarge mark it more darkly), I do not think of it as a novel, but rather an attempt to build a variously-traversible system of writings, some of them stories, while evading the overt mechanism of interactive fiction, a form of which I was at the time cravenly jealous.  The titular garden is partly that of Borges, or Ts'ui Pên: but also a certain fantastic place called Tara in a long-gone time called the nineteen-eighties.  Some of the potentially emergent stories concern love, loss, oil, madness, maps, letters, television, and a certain war on the American homefront, always in progress.  Though few readers have much cared, the work can actually be read in 37 distinct ways simply by "marching through on a wave of Returns," as the man says in afternoon — I suppose I wasn't sure about the whole hypertext thing.  Or one can hunt for specific links, which I left detectable, in a deliberate break from the Joycean model.  Tucked away within the 997 text nodes and innumerable forking paths are low scenes of academic life, cop drama, strong-minded women, a Saddam Hussein impersonator, a really bonehead mischaracterization of Wolf Blitzer, heavy doses of polemic, a talkative black bird, and, as McDaid once allowed, a fairly decent car chase.  For some reason there always had to be a car chase.