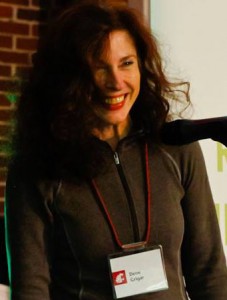 Dene Grigar is Professor and Director of The Creative Media & Digital Culture Program at Washington State University Vancouver who works in the area of electronic literature, emergent technology and cognition, and ephemera. She is the author of net art works, like "Curlew," "Fallow Field: A Story in Two Parts" and "The Jungfrau Tapes: A Conversation with Diana Slattery about The Glide Project," both of which have appeared in The Iowa Review Web, and multimedia performances and installations, like When Ghosts Will Die (with Canadian multimedia artist Steve Gibson), a piece that experiments with motion tracking technology to produce networked multimedia narratives. Recent projects include the "Fort Vancouver Mobile" and The Grand Emporium of the West," projects funded by a 2011 NEH Start Up grant and a 2012 "We the People" grant, respectively, that focuses on location-aware nonfiction content for mobile phones to be used at the Fort Vancouver National Historic Site. She is also a recipient, with Stuart Moulthrop, of a 2013 NEH Start Up grant for a digital preservation project for early electronic literature entitled "Pathfinders:  Documenting the Experience of Early Digital Literature."  She is President of the Electronic Literature Organization and Associate Editor of Leonardo Reviews.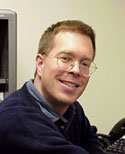 Sandy Baldwin is Associate Professor of English at West Virginia University. His work imagines the future of literary studies in a digital age. As coordinator of the Center for Literary Computing, he facilitates interdisciplinary research projects in the poetics of new media and the media ecology of literary institutions, using web-technologies, multimedia, hypertext, audio/video, and virtual environments. Sandy's scholarly work explores media technologies as rhetorical and aesthetic objects, asking how media structure our thought and experience. His particular focus is on continuities and borrowings between literary theory and theories of digital multimedia. Current research areas include net art as a literary genre, avant-garde writing as a precursor of multimedia, the narrativity of computer games, and the cultural implications of nanotechnology (see his essay in Culture Machine). Sandy serves as Vice-President for the Electronic Literature Organization and is Executive Editor at Electronic Book Review.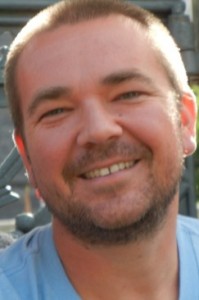 Davin Heckman is an Associate Professor of Mass Communication at Winona State University. He received his PhD from Bowling Green State University, Ohio and was a Fulbright scholar in digital culture at the University of Bergen, Norway in 2011-12.  He is the author of "A Small World: Smart Houses and the Dream of the Perfect Day" (Duke, 2008) and his articles on digital poetics can be found in Leonardo Electronic Almanac, Culture Machine, Dichtung Digital, and Electronic Book Review.  He serves as Secretary for the Electronic Literature Organization, heads the working group for the Electronic Literature Directory, and is editor of "Electropoetics" for Electronic Book Review.

Jim Andrews has been publishing vispo.com since 1996. It is the centre of his activity as a writer/poet, programmer, visual/audio artist, and essayist on art, technology, and media. Vispo.com is a synthesis of various arts and media with an emphasis on an interactive approach.


Aaron A. Reed is a writer, programmer, student, and teacher of interactive narrative, focusing on finding new ways for storytellers to craft deeply personal digital experiences that respect and honor player choices. His work has been featured in the Electronic Literature Collection, the Magazine of Fantasy & Science Fiction, and at indie game venues from Slamdance and IndieCade to the Independent Games Festival at GDC. Aaron has an MFA in Digital Arts & New Media and is currently pursuing a PhD in computer science with the Expressive Intelligence Studio at UC Santa Cruz.