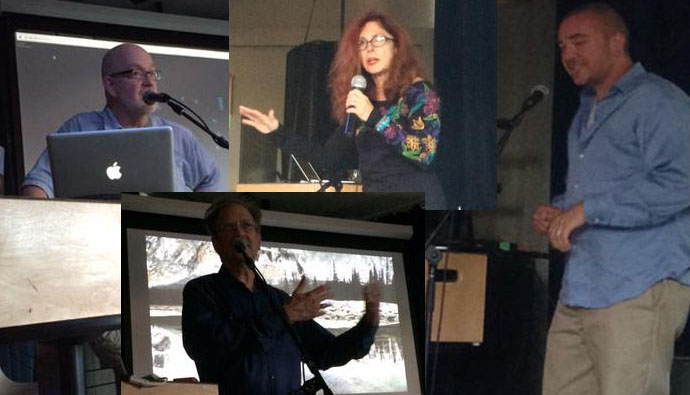 James O'Sullivan and Dene Grigar are hosting an E-Lit Reading on Thursday, June 11 from 7:30-9:00 at Felicita's located on the University of Victoria campus.
Featured Artists
John Barber, "Flight Controllers" (part of the longer "Greg Lambert, Paging Greg Lambert")
Davin Heckman (and Jason Nelson), "Ending Eventually End"
Dene Grigar, "Curlew"
Jim Andrews, "Globebop"
Jim Bizzocchi, "Cycle"
Also featuring participants from "Introduction to E-Lit" course:
Carl Watts: "Flying to Asia"
Curt Rode: "Collateral Glory"
Amardeep Singh: "Seven Layers"
Michael Russo: "DHMarkov"
Ammie Harrison: "Shadows of Mary Magdalene"
Martin Camps: "Petition to NASA to Include a Poet on Its Next Trip to Outer Space"
Farrah Abdel Latif: "Suicide Attempt"
Bios
Jim Andrews is a Vancouver-based, award-winning artist-programmer, visual poet, essayist who has created over 20 works of electronic literature including "Enigma n," "Arteroids," "On Lionel Kearns," "Aleph Null," and "Stir Fry Texts." His work has been published in the Electronic Literature Collection 1 and 2. He has given talks about his work internationally at venues like E-Poetry and TRaCE. His site, Vispo.com has long served as one of the top collection archives for his work as well as other important e-lit artists like bpNichol, Ana Maria Uribe and others.
John Barber is a member of the Creative Media & Digital Culture faculty at Washington State University Vancouver. He has, this week, facilitated the class on Sound and Digital Humanities. Beyond these academic pursuits, John is noted for his ability to prepare four-course meals from yogurt and granola. He has walked the Great Wall of China, cruised the Mississippi River, and spoken with Captain America. With regard to sound, John is interested in its central position in narrative and digital storytelling. Tonight he brings an interesting perspective on "narrative all around us."
Jim Bizzocchi is an Associate Professor at the School of Interactive Arts and Technology at Simon Fraser University in Vancouver BC.  Jim's research interests include the future of the moving image, and the design and experience of interactive narrative.   He has been a teacher for over 40 years, and loves teaching.   He also loves cinema.   Jim has been a practicing film and video maker for his entire career, and is currently working in the genre of "Ambient Video".
Dene Grigar began as a literary artist, publishing and performing poetry and short stories in literary magazines and café venues. Trained also in painting and music, she became interested in multimedia literature where digital images, sound, video, animation, and the written word produce new opportunities for creative expression. She has experimented with marrying digital literature with performance art with works like When Ghosts Will Die, "Things of Day and Dreams," and "Rhapsody Room."  The introduction of the iPhone led to her interest in exploring mobile apps for storytelling and poetry with works like "A Villager's Tale" for the Fort Vancouver Mobile project, funded by a 2011 and 2012 National Endowment for the Humanities grant. She was selected as a Master Artist at the 2014 OLE.01 Festival in Naples, Italy where she debuted Curlew, a multimedia, spoken-word performance poem and an accompanying web-based, interactive app-book represents the culmination of two decades of thought and experimentation with digital media art and literature. Grigar directs the Creative Media & Digital Culture Program at Washington State University Vancouver and is President of the Electronic Literature Organization.
Davin Heckman is an Associate Professor of Mass Communication at Winona State University. He is managing editor of electronic book review and serves on the board of the Electronic Literature Organization. He is the author ofA Small World: Smart Houses and the Dream of the Perfect Day (Duke UP), and his articles on electronic literature appear in places like Culture Machine, Dichtung Digital, and ebr. His current research deals with poetics and technical estrangement in electronic literature.