This showcase documents the work that the participants produced during the week in the "Documenting Born Digital Creative and Scholarly Projects" course. Projects included a Scalar book and entries for the ELMCIP Knowledge Base, the Electronic Literature Directory (ELD), and Wikipedia. All projects required research and written documentation, but they also potentially include documentation via video, sound, and image. In some cases participants conducted Traversals and interviews, following the Pathfinders methodology. The course itself is documented in at the ELMCIP Knowledge Base by Ryan House.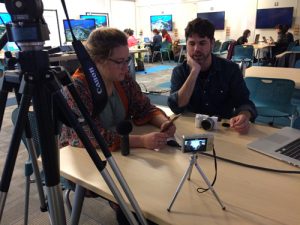 "Bloom," by Brian Eno and Peter Chilvers
This project is a documentation effort to capture as many of the "significant properties" of Brian Eno's and Peter Chilvers's groundbreaking generative music app–Bloom.
Team Members:
Matt Schultz, Grand Valles State U Libraries
Macy L Miller, United States Air Force Academy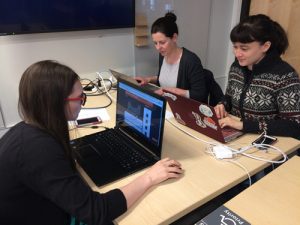 "The Stanley Parody," by Brandon Parfitt
This project documents the interactive essay by Brandon Parfitt that explores choice and narration in the interactive fiction game The Stanley Chronicle.
Team Members:
Shannon Lucky, University Library, University of Saskatchewan
Becca Quon, Digital Library Federation
Alanna Marie Blackall, University of Victoria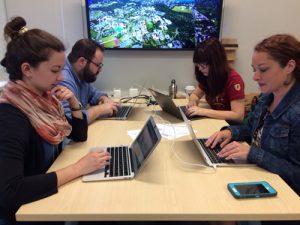 "Enchanting the Desert," by Nicholas Bauch
"Enchanting the Desert" by Nicholas Bauch was published in 2016 by Stanford University Press. This documentation describes and catalogs the interactive digital project's interface, development, technical specifications, and publicity and reception.
Team Members:
Robin Camille Davis, John Jay College of Criminal Justice
Adam Newman, Emory University
Evie Cordell, University of Illinois Urbana-Champaign
Jasmine Mulliken, Stanford University Press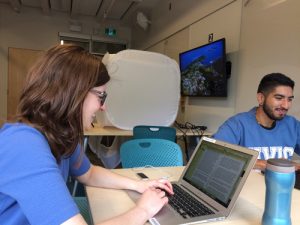 "Whispering Galleries," by Amaranth Borsuk & Brad Bouse
Team Members:
Stacy Reardon, UC Berkeley
Alejandro Echeverria, UC Riverside
Scalar book | ELMCIP Knowledge Base entry | Electronic Literature Directory entry | Wikipedia entry for Amaranth Borsuk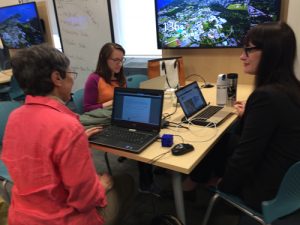 "Chessbard," by Aaron Tucker & Jody Miller
Team Members:
Elizabeth Bedford, University of Washington Libraries
Julia Polyck-O'Neill, Brock University
Lori Ricigliano, University of Puget Sound
Scalar book | ELMCIP Knowledge Base entry for Aaron Tucker | Electronic Literature Directory entry for Aaron Tucker | ELD entry for Loss Sets | Wikipedia entry for Aaron Tucker | Wikipedia entry for Chessbard