"To change the physical form of the artifact is not merely to change the act of reading… but to profoundly transform the metaphoric relation of word to world." (Borsuk)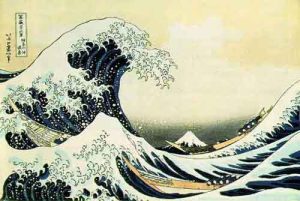 Digital publishing describes the transformation of book content to bytes of data. From that physical space of page turning or opening a portal, to a virtual space meant to draw connections between readers and authors. Audiences are tuning into the screen capabilities of books as a different kind of art form. This digital means of publishing could then invite the reader to use other forms of media or virtual reality to convey a message.  
An example of an immersive digital experience could be that of choosing various options in a reader space that change how the narrative winds through different scenes. These options then feel more like a video game that captures audiences who find reading monotonous or boring, to enjoying the content being shared. This is sort of how artificial intelligence would "write" a book. This immersive experience is more a book of chance or a game of "would you rather?"  This idea comes from the argument that there exists an "erosion of deep literacy." (Garfinkle and Thomas) Digital space presents its own challenges of literacy absorption. I highly recommend "The Erosion of Deep Literacy" as a resource to help guide digital publishing in todays wave of constant distraction. 
Another quote that had me pondering the books' existence in digital form is from page 134. Stéphane Mallarmé states, "Everything in the world exists in order to end up as a book." YES, and therefore every book exists in the world to drive the digital media that comes from the society in which we live. The lives that inspire the content and motivate the author to share with digital world. That is how the inspiration of film or digital media comes to life. Digital publishing then draws connections from content received from print to content transformed into art that is perceived by the audience.  
Works Cited
Borsuk, Amaranth. The Book (the MIT Press Essential Knowledge Series). Illustrated, The MIT Press, 2018.
Garfinkle, Adam, and George Thomas. "The Erosion of Deep Literacy." National Affairs, nationalaffairs.com/publications/detail/the-erosion-of-deep-literacy. Accessed 1 Sept. 2022.
Blog Post #2