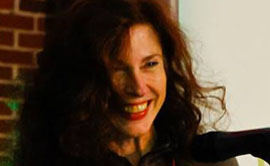 Dene wrote the poem, developed the concept, produced the multimedia design, and composed the music for Curlew
Dene began as a literary artist, publishing and performing poetry and short stories in literary magazines and café venues. Trained also in painting and music, she became interested in multimedia literature where digital images, sound, video, animation, and the written word produce new opportunities for creative expression. She has experimented with marrying digital literature with performance art, co-creating with Canadian artist Steve Gibson, the multimedia performance piece, When Ghosts Will Die. "Things of Day and Dreams" and "Rhapsody Room" both followed in 2007. The introduction of the iPhone that same year led to her interest in exploring mobile apps for storytelling and poetry. Fort Vancouver Mobile, funded by the National Endowment for the Humanities in 2011 and 2012, reflects this phase of her work. As a work of live performance aimed also for installation at galleries and an tablet for individual use, Curlew represents the culmination of two decades of thought and experimentation with digital media art and literature. You can see more of Dene's work at her website.

Read her Artist Statement.