> 3D Modeling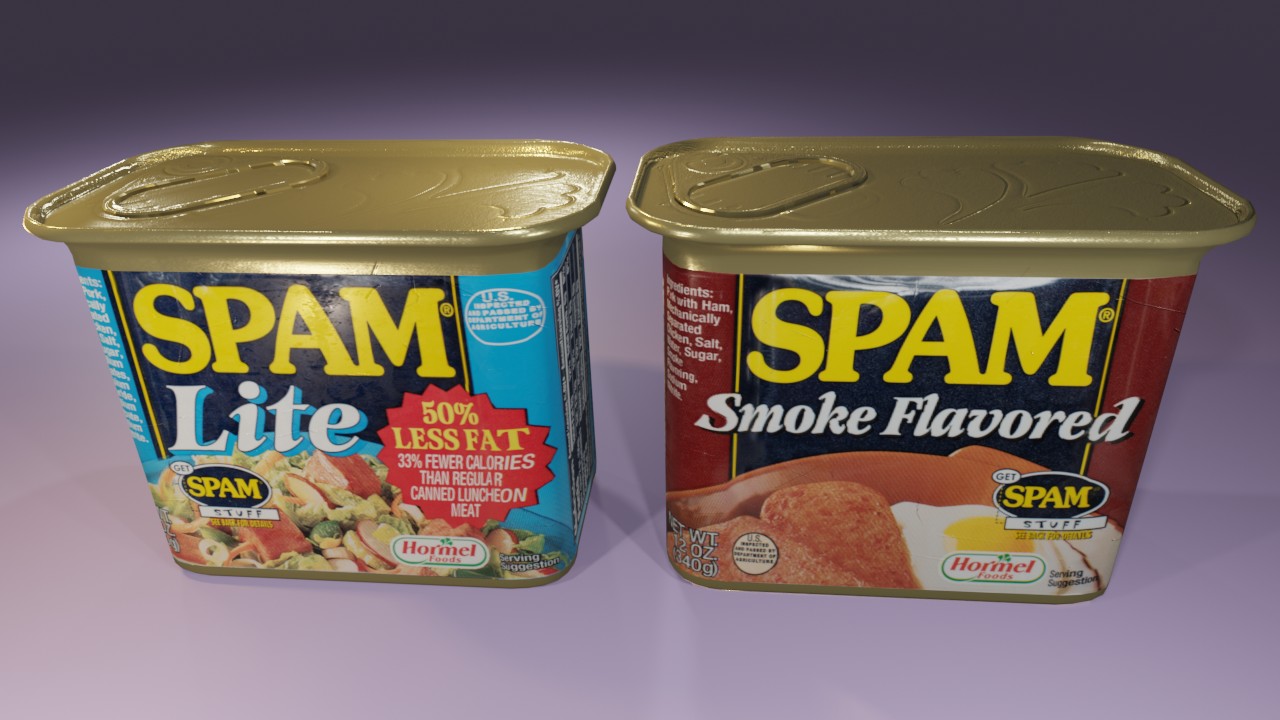 Retro SPAM Cans
These were created for The Richard Holeton Collection, which is part of The Electronic Literature Organization's The NEXT. The NEXT is a combination museum, library, and preservation space containing 30 collections and over 3000 works of born digital literature. These SPAM cans were part of Holeton's inspiration as he created his piece "Figurski at Findhorn on Acid."

I modeled these cans in Maya, textured in Photoshop and Substance Painter, and applied those maps and rendered in Blender's Eevee engine. For the mesh itself, I used a modern can for reference. Then, I created the labels using high quality photographs of the authentic cans provided to me by the organization. I stitched together the labels using Photoshop and applied them in Substance Painter. The mesh is lowpoly and realtime ready.

The NEXT can be visited here when we go live (est. May 2021) I am the current Team Lead for the 2D & 3D Visualizations Team, and you can see more of our work at The NEXT in the various Collections or the Visualizations page.
Sketchfab
link
for mobile users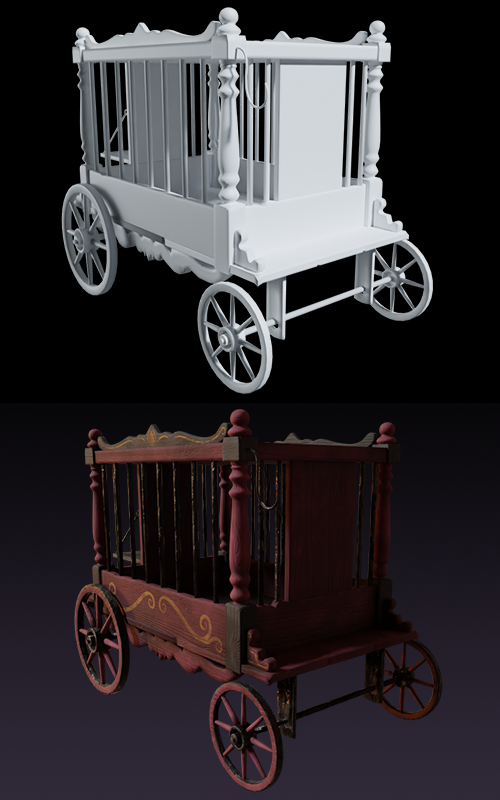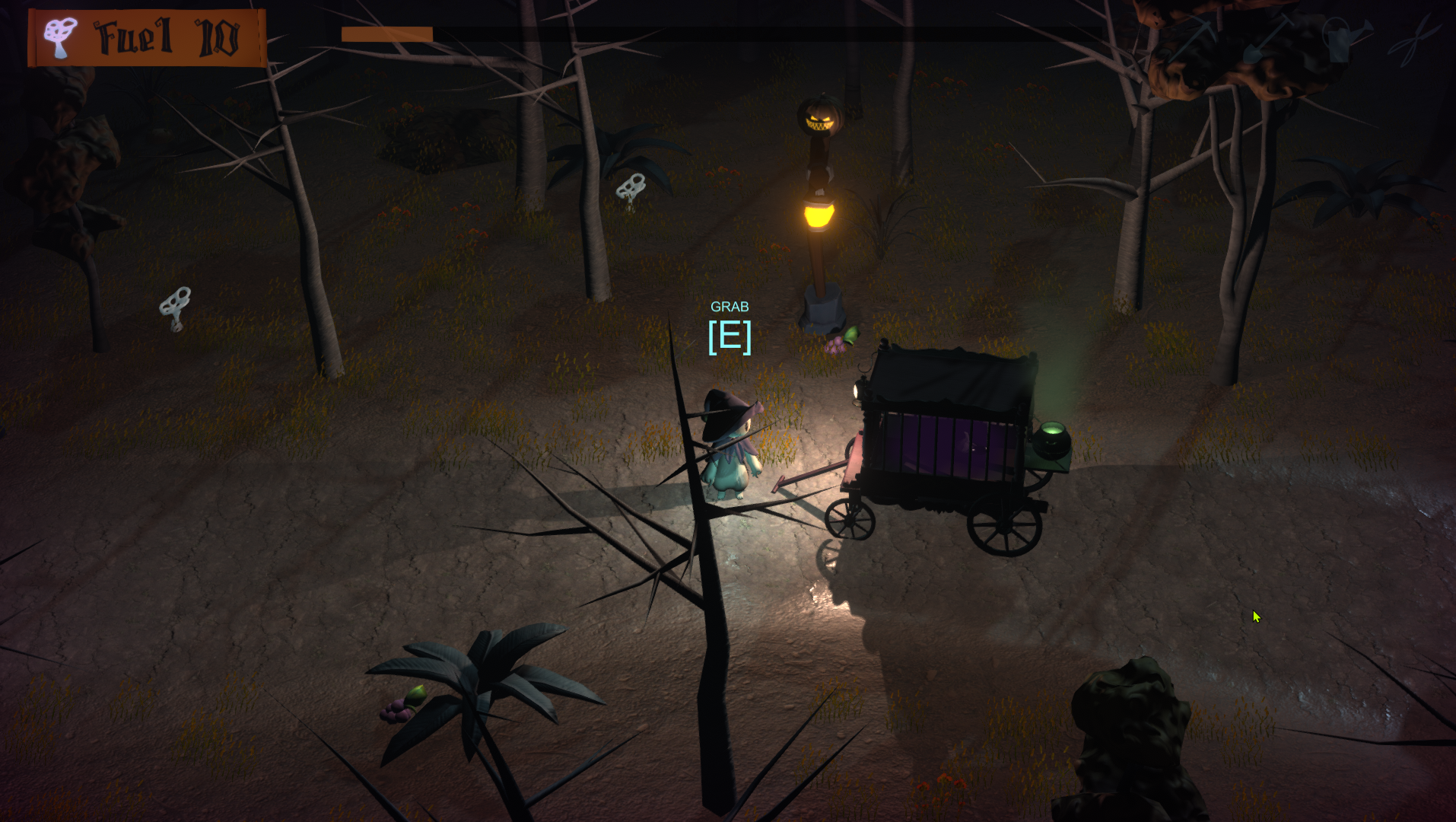 Hallowtide circus cart
Hallowtide is a short, atmospheric, resource management game developed by a small team as a Fall 2021 Game Jam.

For Hallowtide, I created the mesh of the circus cart. Due to time constraints and the nature of casual Game Jams, the texturing was done by my (very talented!) colleague, Dillon Gohl.
I used Blender for modeling this cart. The first image shows the clay and textured cart, and the second image is how the cart appears in-game.

Hallowtide is available to download and play for free from itch.io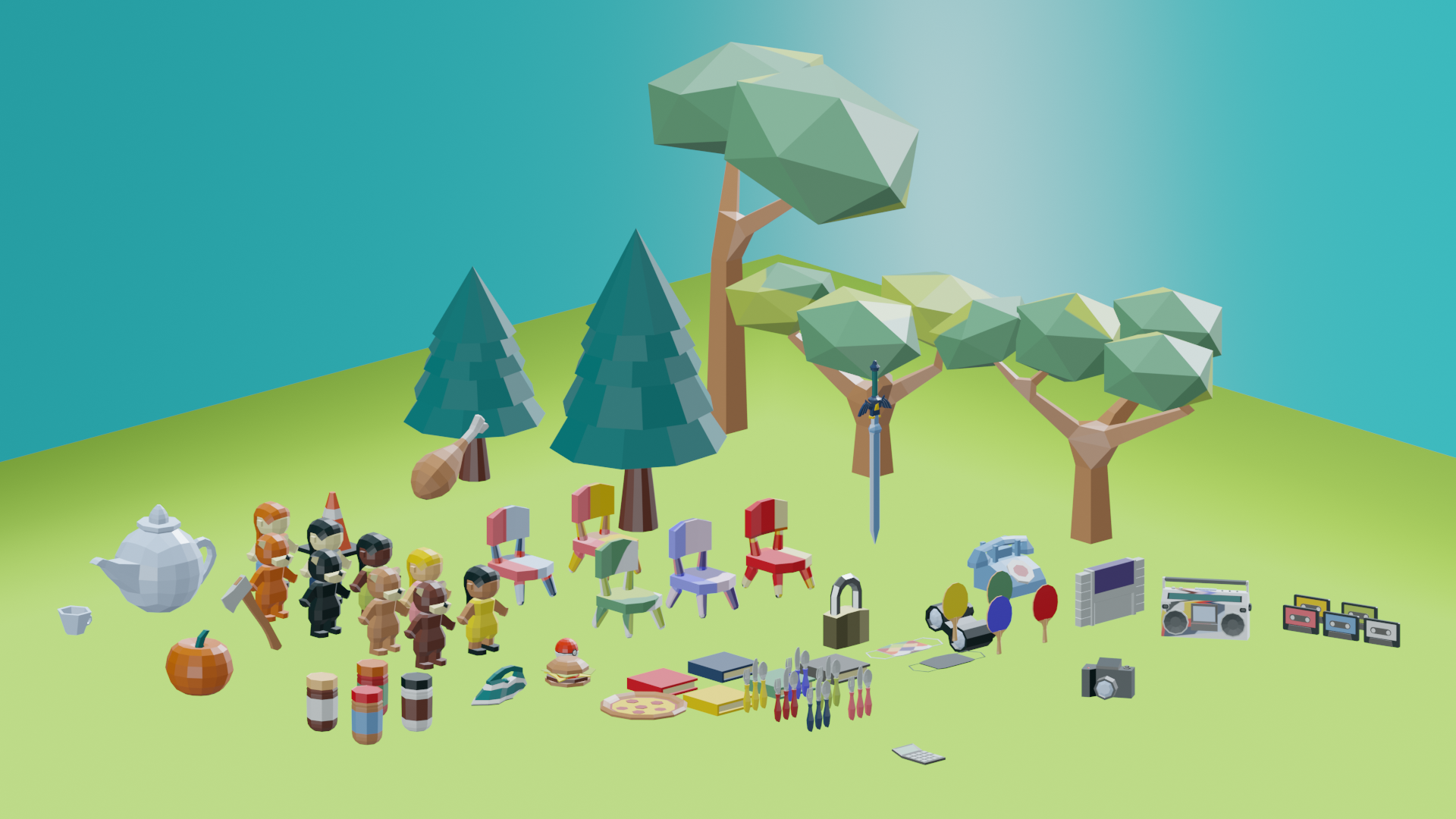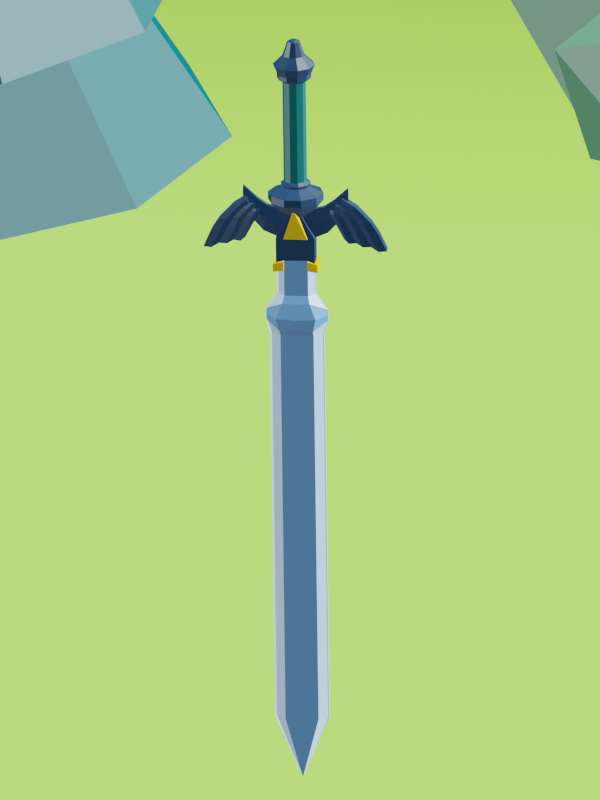 CarGoat assets
CarGoat is a short 3D platformer developed by a small team as a submission for the Portland Indie Game Squad's August 2021 Game Jam, themed "cliffhanger" games.

I created the majority of the pickup objects in CarGoat. These ranged from simple books, to dolls, to the Master Sword from The Legend of Zelda. I also created several varieties of trees for the environment.
For this project, the design team established a simple, color block, lowpoly style that all my assets adhere to. For this project, I used a new-to-me method of texturing in which all objects utilize the same texture map. The map was a single JPG filled with colored squares. Each mesh's UVs were placed on this single document. The result is an extremely efficient and small file size and a fun, cartoony look throughout the game.

CarGoat is available to download and play for free from itch.io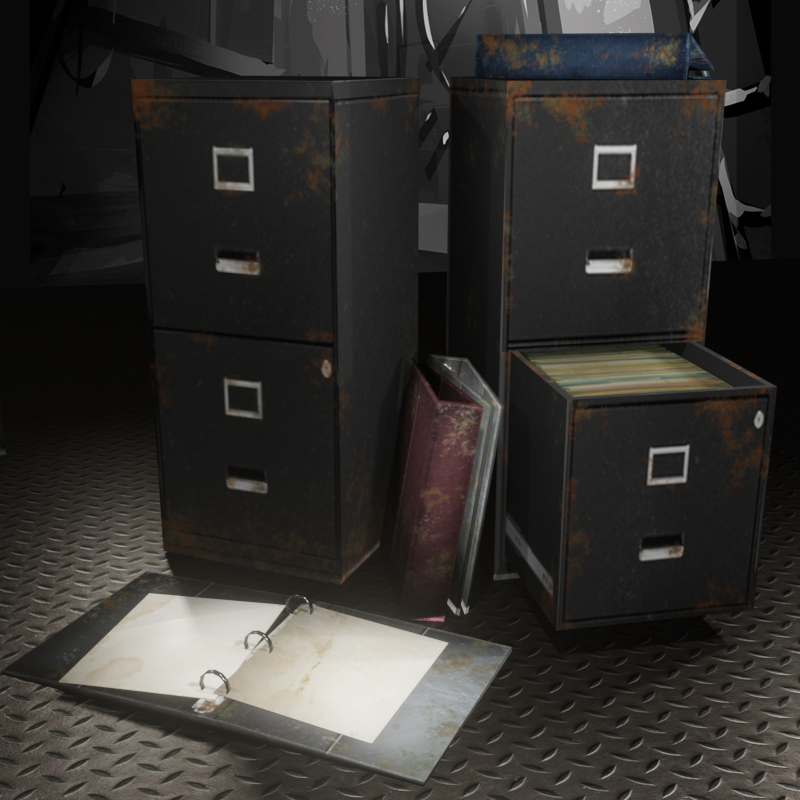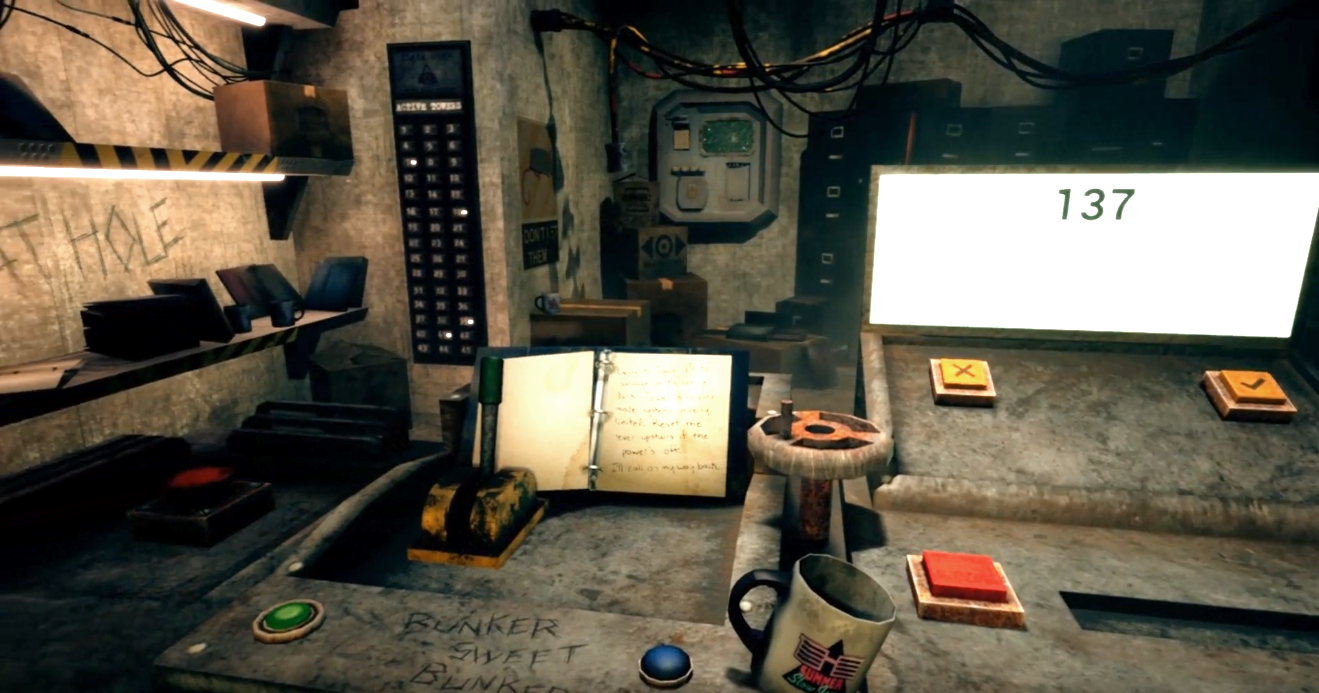 Dead Air assets
Dead Air is a short atmospheric horror game developed by a small team as a submission for the Portland Indie Game Squad's July 2021 Game Jam, themed "remix" games.

I created several assets for the game, including the ones pictured here (file cabinets, binders) as well as some structural support beams used to construct the exterior environment. The second image is an in-game screenshot showing my assets in-engine.
The art direction for this project was to create assets reminiscent of early 3D games, such as those found on the Playstation 1 or 2. I modeled the meshes in Blender and created the textures in Photoshop, using a combination of photographs and hand-painted grime.

Dead Air is available to download and play for free from itch.io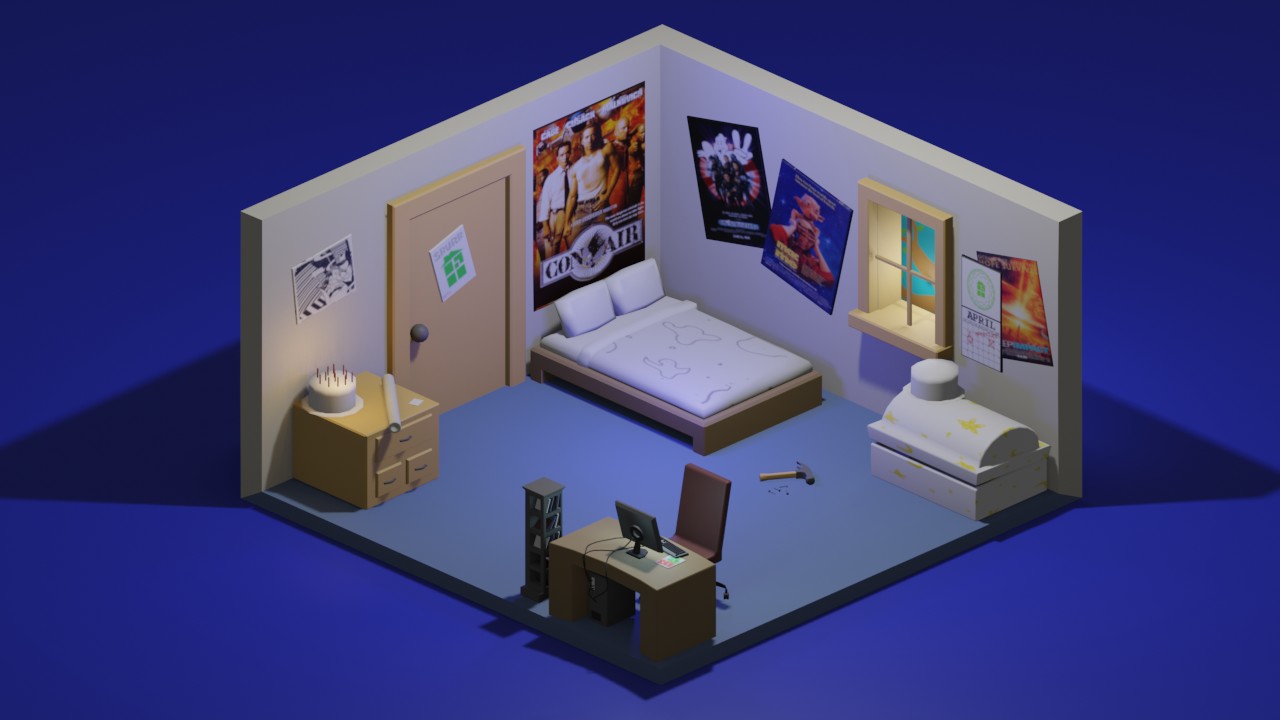 John's Bedroom (Homestuck fanart)
A little lowpoly recreation of John's bedroom from Homestuck, a webcomic by Andrew Hussie.

I experimented with Maya's quad draw tool for the first time retopologizing the walls and floor after using a boolean to make the window cut out. I would like to think I'll go back sometime and do the same for the CD tower, which I also created using booleans. I would like to also go back and UV unwrap the chest lid, as I think it could use a little love.

All modeling and texturing for this scene was done in Maya 2020, with the exception of the bedding and chest textures, which I drew in Photoshop. The lighting and rendering were done in Blender.

I used the images here for reference. The movie posters I just found with easy Google searches. The other images I included sources to in Sketchfab annotations on the model.


Sketchfab link for mobile users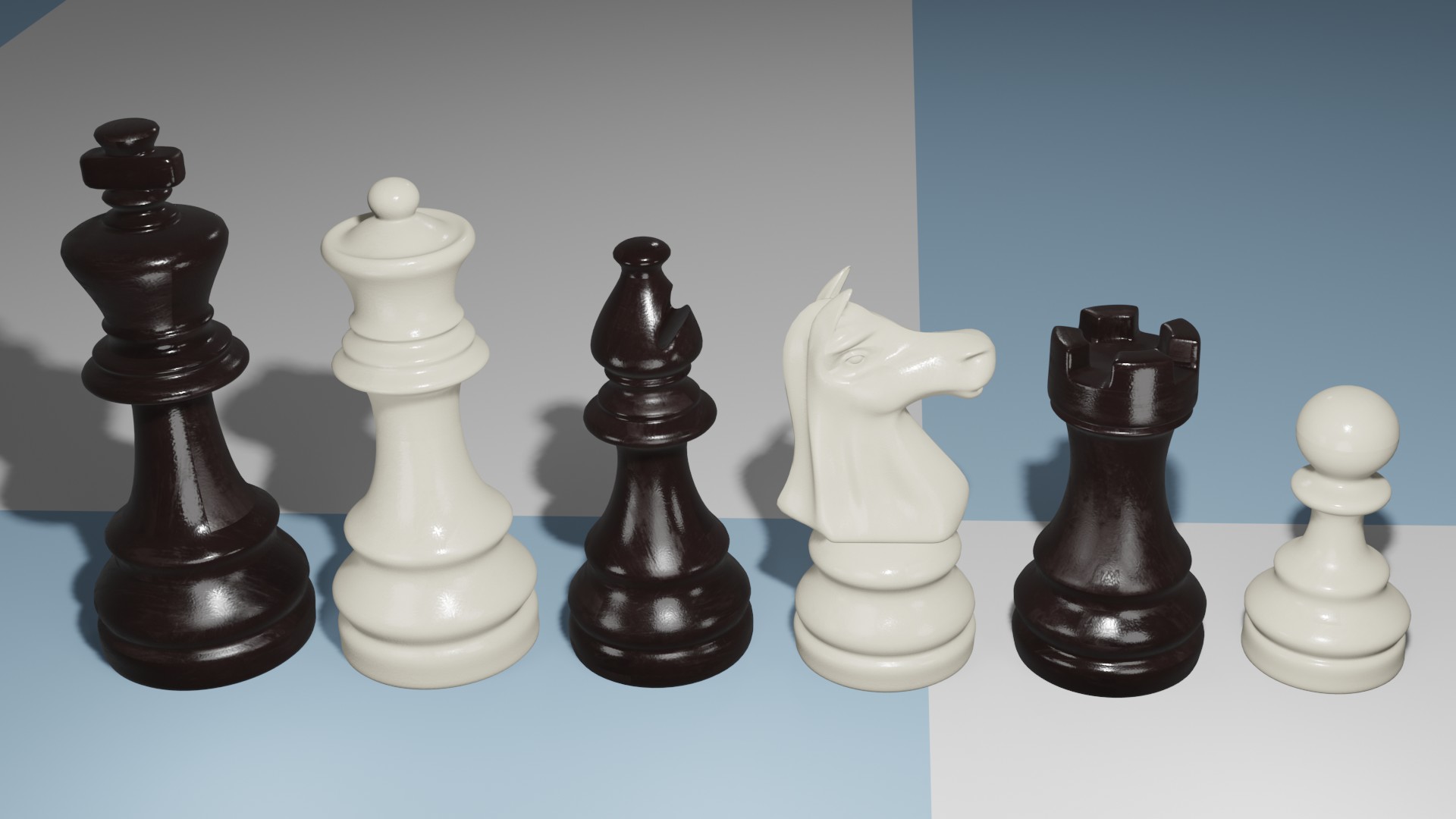 Chess set
For my chess set, I was given a 2D silhouette image as a reference for each piece. For most of my pieces, I used polygonal modeling by beginning with a cylinder. For the knight, I drew out the mesh on a 2D plane by hand and extruded then mirrored the result. I used symmetrical modeling to finish the details. Modeled in Autodesk Maya and rendered in Blender (Eevee.)


Sketchfab link for mobile users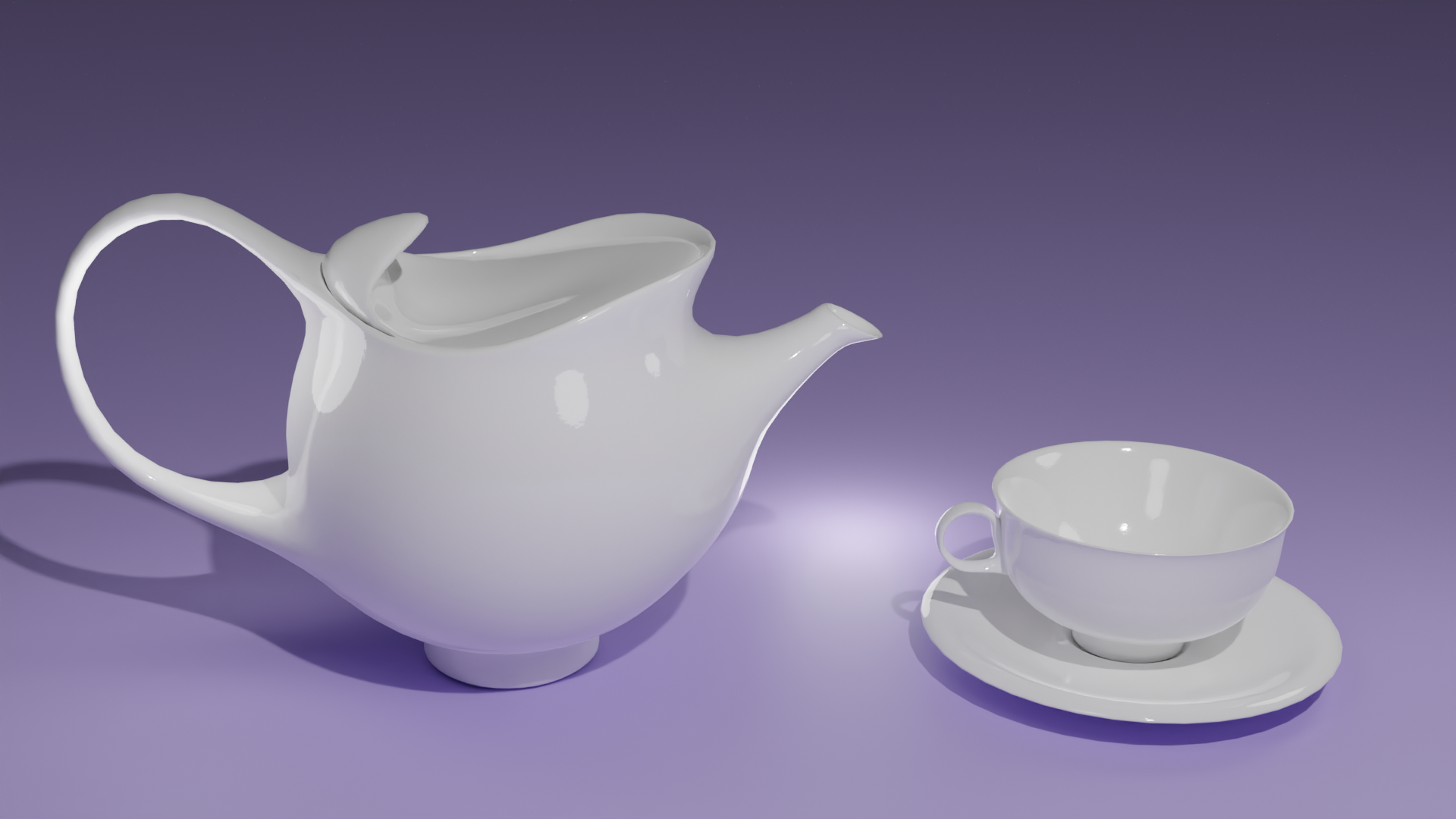 Teapot and Teacup with Saucer
This set was initially for some basic shape practice, but I ended up being quite happy with how they came out. For both pieces, I used polygonal modeling. I also decided to hollow out the teapot so that it would look more functional. I used these pieces as background prop decoration in my animated piece "The Cookie Caper."
The render was completed in Blender's Cycles engine.

To model these pieces, I used a reference photo of a pottery set designed by Eva Zeisel.
Sketchfab link for mobile users.