Launch Party and Lecture
---
Please join us for the launch party of TransPoetica: Works by Stephanie Strickland on February 25, 2014 at North Bank Gallery.

Appetizers and beverages will be provided set to live music.

Following the opening Stephanie Strickland herself will offer a lecture at Angst Gallery from 7:00 pm to 8:30 pm. With drinks and mingling to follow at Niche Wine Bar.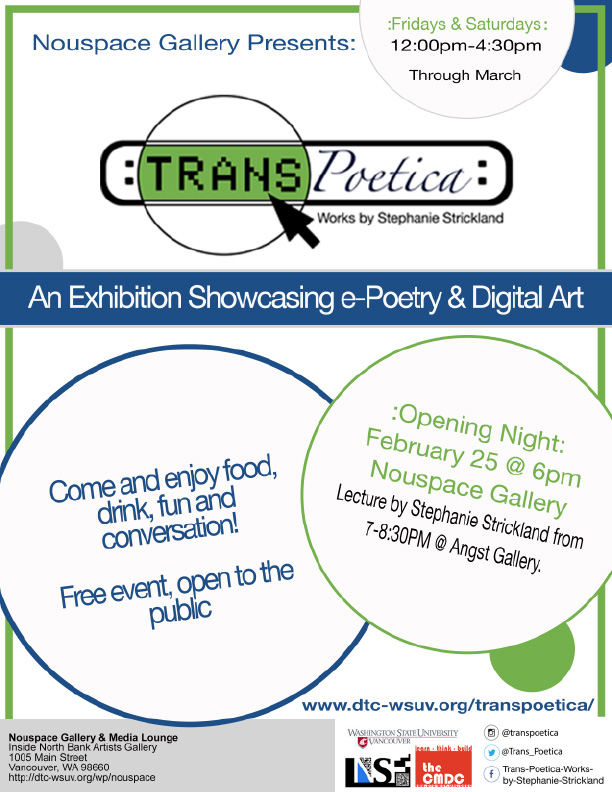 TransPoetica
Works by Stephanie Strickland,
2014
It can be difficult to connect the world around us to the math and science which that explains it. Or to make the connection between what we see on the screens of our computers and the translation from the clicks, prompts and colors that make up a digital or virtual experience into the binary and computer code language.

Can applied mathematics turn machines into poets?

Can an algorithm transform a poem into an artwork?


TransPoetica intends to explore these questions at the intersection of technology and linguistics through Stephanie Strickland's work. Stephanie Strickland, a pioneer in the world of Electronic Literature, brings her works of virtual poetry to Nouspace Gallery in a retrospective showing. Strickland describes some of her work as born­digital:


"E­poetry relies on code for its creation, preservation, and display: there is no way to experience a work of e­literature unless a computer is running it—reading it and perhaps also generating it. ... What is meant by e­literature, by works called born­digital, is that computation is required at every stage of their life. If it could possibly be printed out, it isn't e­lit."
-(Strickland, PoetryFoundation.org)
Writing about her "born digital" projects in multiple media, she tells us:


"The same poetic material can be treated as electronic literature and as print literature. I have made six such poems, either alone or with collaborators... The resulting poems are very different, and just how they are different is a matter of great interest to me."
-(Strickland, PoetryFoundation.org)
Keeping these concepts in mind, this exhibit follows the artist's path through the landscape of changing technology while working in multiple media realms. This exhibit attempts to juxtapose the historic with the new and increasingly exciting marriage of art with technology, the lyrical with the mathematical. Poetic rhythms intermingle with scientific algorithms creating an adventurous trek through the time line of technogenesis*. The gallery space immerses the visitor in the midst of evolving technologies, incorporating scientific theorems and poetry while keeping close at hand the newest hardware and software alongside the historic. The space lends itself easily to the interactive nature of the works. Visitors will view virtual poetry works and print work alike and explore the world of changing digital frontiers while experiencing digital art.
­-Josephine Sanders, Junior Curator
*Contemporary Technogenesis implies continuous reciprocal causality between human bodies and technics.
Strickland, Stephanie. Born Digital: A poet in the forefront of the field explores what is—and is not—electronic literature.