Launch Party and Lecture
---
Please join us for the launch party of TransPoetica: Works by Stephanie Strickland on February 25, 2014 at North Bank Gallery.

Appetizers and beverages will be provided set to live music.

Following the opening Stephanie Strickland herself will offer a lecture at Angst Gallery from 7:00 pm to 8:30 pm. With drinks and mingling to follow at Niche Wine Bar.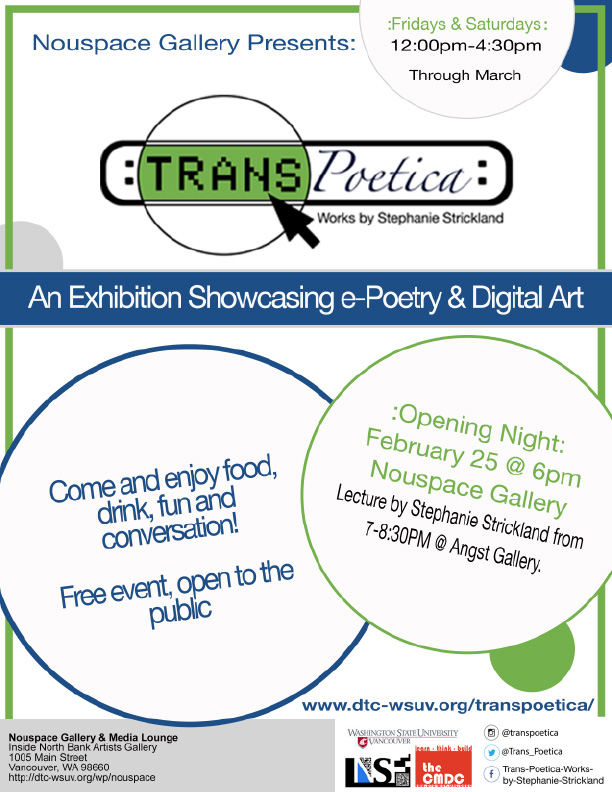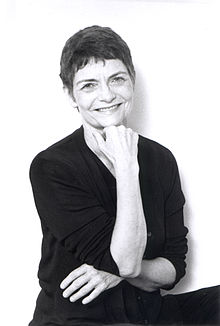 Stephanie Strickland is an American poet and author whose poetry surpasses traditional considerations of literature.

Born in Detroit, and receiving her degrees at Harvard University (B.A.), Sarah Lawrence College (M.F.A.), and the Pratt Institute of Technology (M.S.), Strickland transcends the boundaries and exclusionism of print by creating poetry for both printed and digital mediums, collaborating with other media artists and writers to formulate works that are truly multimodal. A common motif within Stephanie's work is the dualistic relationship between art and technology, juxtaposing science and literature together in an exploration of how these two elements contrast, harmonize, and synthesize with one another.
Since 1995, Stephanie has focused her poetic endeavours in creating works for both printed and electronic mediums alike. Strickland's printed works include the books of poetry Give the Body Back, True North, V: WaveSon.nets / Losing L'una, Zone: Zero, and her most recently published work, Dragon Logic. Many of these texts are not only published in print but also in interactive hypermedia formats, or link to other born-digital or e-literature pieces by Strickland. Her e-literature piece, To Be Here as Stone Is links to her book True North, and Errand Upon Which We Came and V: Universe relate to V: WaveSon.nets / Losing L'una. Strickland has described some of her work as born-digital, which she defines as literature that "relies on code for its creation, preservation, and display, [. . .] computation is required at every stage of [the piece of e-literature's] life."
Some of her most notable born-digital works include the hypertext version of True North, The Ballad of Sand and Harry Soot, slippingglimpse, and Sea and Spar Between. Many of these works were collaborative efforts with other media artists and coders such as Sea and Spar Between, which created with fellow author, Nick Montfort, is an electronic poetry generator that composes new poetic lines from an algorithmic equation and an exhaustive culmination of lines collected from the works of Herman Melville and Emily Dickinson. Stephanie Strickland has received renowned praise for her innovative, and somewhat whimsical, interchange between scientific research and lyrical experimentation within her multi-modal collection of works, having received such awards as the Ernest Sandeen Poetry Prize and the Alice Fay di Castagnola Award for True North and the Boston Review Poetry Prize for The Ballad of Sand and Harry Soot. Strickland held the McEver Chair in Writing at the Georgia Institute of Technology in 2002, and also taught at the university. While there, she founded and curated the TechnoPoetry Festival of 2002, an event which explored and celebrated writing with new digital technologies. Stephanie Strickland is current on the Board of the Electronic Literature Organization, and lives in New York City. Her papers are being collected for preservation by Duke University.
Stephanie Strickland Wikipedia
Stephanie Strickland Artist of the Month
Stephanie Strickland at Poetry Foundation