Launch Party and Lecture
---
Please join us for the launch party of TransPoetica: Works by Stephanie Strickland on February 25, 2014 at North Bank Gallery.

Appetizers and beverages will be provided set to live music.

Following the opening Stephanie Strickland herself will offer a lecture at Angst Gallery from 7:00 pm to 8:30 pm. With drinks and mingling to follow at Niche Wine Bar.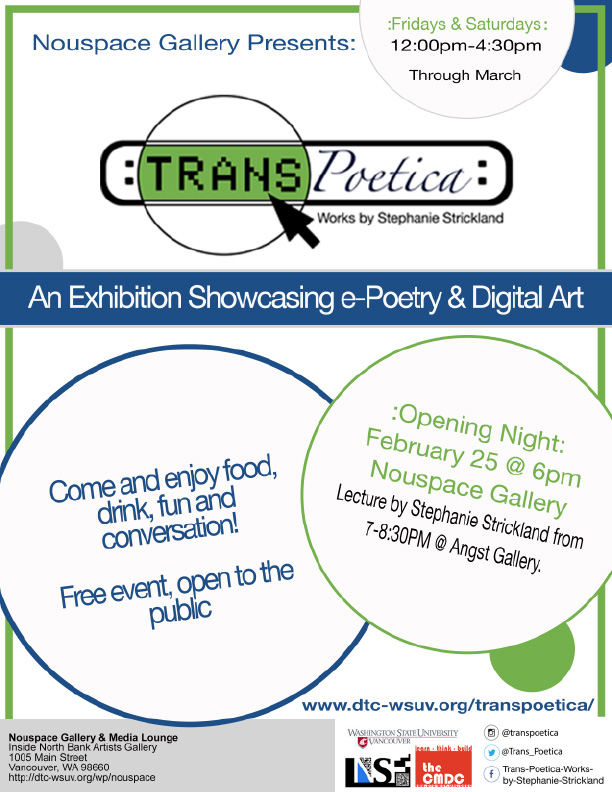 WSU Vancouver Students Curate Digital Poetry and Multimedia Exhibit
Press Release
February 19, 2014
For Immediate Release
Contact: Dr. Dene Grigar, or Amalia Vacca.
---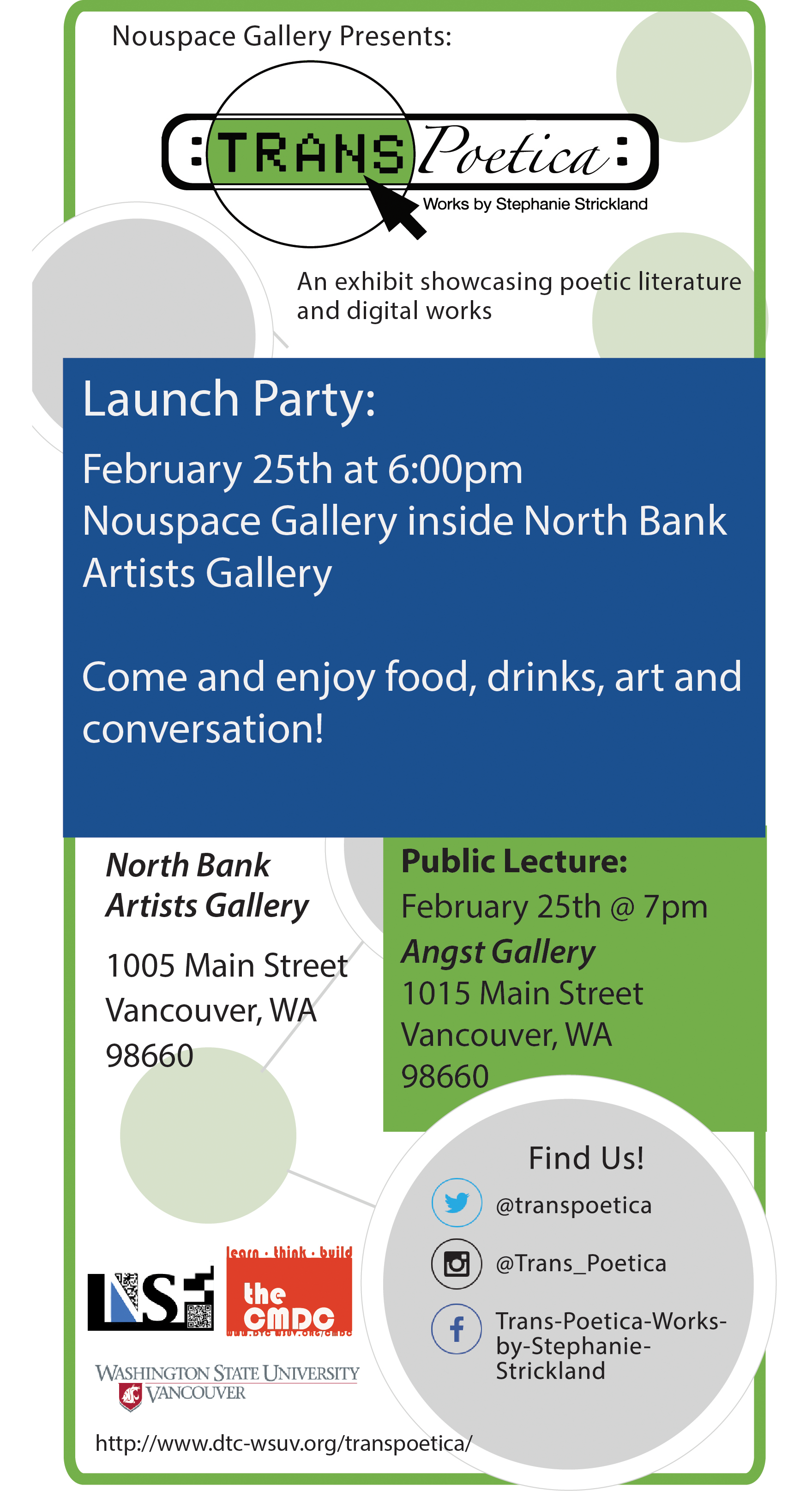 "TransPoetica: Works by Stephanie Strickland", an exhibit that explores the role of computers in generating new poetic forms through the works of award-winning poet and multimedia artist, Stephanie Strickland, opens Feb. 25 with a launch party at 6 p.m. in the Nouspace Gallery & Media Lounge.
Strickland will give a lecture at 7 p.m. at the Angst Gallery. Both events are free and open to the public.
The exhibit is curated by Creative Media and Digital Culture students at Washington State University Vancouver, under the direction of Dene Grigar, associate professor and director of the CMDC program. The exhibit runs through the month of March.
Strickland is an author and poet from New York City who gained national acclaim for her role as an electronic literature pioneer and for her innovative experiments with poetic structure and media. Since 1995, she has written poetry for both print and digital media, collaborating with media artists and computer programmers to create multimodal works that fluidly move between and intersect with each media.
Strickland's electronic poetry, which synthesizes computer coding, digital media and language, challenges the very considerations of poetry, as the born-digital element of her work transcends the boundaries of traditional print literature. In juxtaposing and generating words and flash animations on a computer screen, code and mathematics become just as quintessential to Strickland's poetry as the words themselves. The computer itself becomes a fundamental creator in her art.
"TransPoetica" will guide visitors through a retrospective of Strickland's work displayed on a variety of technologies, leaving visitors to grapple with the question, "What is poetry?" as they are immersed in works that consist of words contrived from mathematical coding rather than linguistic syntax.
Nouspace Gallery & Media Lounge is located inside North Bank Gallery at 1005 Main Street, Vancouver. Angst Gallery is located at 1015 Main Street, Vancouver.
North Bank Artists Gallery
1005 Main Street, Vancouver, WA
(360) 693-1840
Angst Gallery
1015 Main, Vancouver, WA 98660
(360) 253-1742
The exhibit runs the entire month of March at Nouspace Gallery. For more information, contact Dr. Dene Grigar,Creative Media and Digital Culture, (360) 546-9487, or Brenda Alling, Office of Marketing and Communications, (360) 546-9601.