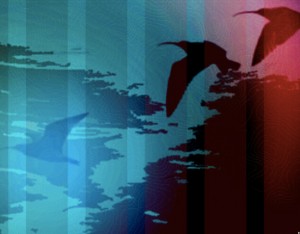 Greg and I have been hard at work finishing Curlew in time for the OLE.01 Festival.  We are making our deadlines with no trouble and by next Saturday, just in time for WSUV's 25th Anniversary Celebration, we will have added the title sequence, the music, recorded spoken word, and 1/2 of the videos into the work.  We are planning a fishing expedition in Astoria on September 21 with Troy, who is doing the videography and video editing for us, to pick up footage of gulls and fish.  With last bit of media, we will be finished with the work.
Ultimately, Curlew will have three iterations:
Three-Wall Projection for Live Performance
Single Monitor for Gallery Installations
App-Book Environment for Tablets
We will be debuting both the monitor and app-book versions at the festival.
Greg has found a very smart way to work with the Kinect Game System in a fair superior way than we developed for iSci:  He created the work in HTML5, CSS3, and Javescript and then used Osculator to read the gestures from Kinect as keyboard inputs.  The result is flawless tracking.
I worked most of today getting the gig site ready.  It still needs a lot of tweaking, but I now have a working draft.  Check it out.
If you are around the Vancouver area next Saturday and are planning to attend the celebration, please come by the MOVE Lab.  We plan to open it and ELL to the public from 3-5 p.m.  You can see Curlew and iSci.
The MOVE (Motion Tracking, Virtual Environment) Lab is explores combining sensor-based physical computing with virtual and augmented reality technologies for education, business, communication, and art.


Director: Dr. Dene Grigar, The Creative Media & Digital Culture Program at Washington State University Vancouver.


Research Assistant: Greg Philbrook, B.A., CMDC Program

We were pleased to supervise the research of Catlin Gabel senior Marina Dimitrov, who undertook AR as the topic of her senior project. Marina will attend Stanford University in the fall to study Engineering. A summary of her project is online on her blog.