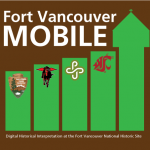 "Fort Vancouver Mobile" (FVM) brings together a team of 18 scholars and storytellers from throughout the digital humanities field––including historians and archaeologists as well as experts in literature, rhetoric, and writing––to create digital content for mobile phones that can be accessed by visitors to the The Village at the Fort Vancouver National Historic Site, in Vancouver, WA.  Phase 1 developed "apps" for mobile phones that delivers nonfiction narrative content about the lives of Hawaiian workers of the Fort.  It has resulted in the "proof of concept" for the larger project.  Phase 2, the project chronicled in this site, focuses on women and domestic issues whose presence at the Fort until recently has not garnered much public attention.  At the end of our project we will have a series of digital stories, told through video, sound files, and other media, able to be delivered by smart phones to Fort Vancouver visitors.
I, along with my colleague Brett Oppegaard also from The Creative Media & Digital Culture Program at Washington State University Vancouver (WSUV), are heading up this phase of FVM. We received a Start Up grant from the National Endowment for the Humanities, as well as a 2011 Historical Promotion grant from Clark County, and a 2011 Research Mini-Grant from WSUV.  Phase 1 was seeded originally with a 2010 Historic Promotion Grant led by Oppegaard.
We are using this website to document our work as we produce the project. The main site for the Fort Vancouver Project is managed by Oppegaard.  Please visit it for more information about our work.
You can download the app for both Android and Apple.