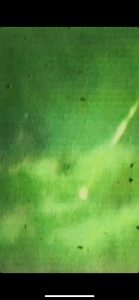 Pry is an engaging story about a man named James who is a demolition consultant that comes back from the gulf war and experiences vision failure throughout the story. This grants the reader the opportunity to explore not only what James experiences in reality, but his thoughts as well. This creates a story that is linear in the sense that it moves from chapter to chapter, yet can be engaged with and explored in a plethora of ways, as the reader gets to choose whether to explore James' thoughts or the reality in front of him.
The story's prologue provides some useful insight that assists in the understanding of the rest of the story. The prologue is not interactive like the remainder of the story; it is simply a video of a young man who goes off to what is apparently the beginning of his military career. We are also introduced with some brief imagery of some individuals from his military past that appear throughout the rest of the story.
Moving into the main part of the story, we can see that James is constantly struggling with both his reality and his perception of reality, both in regards to his thoughts and his hallucinations. In chapter 1, we noticed that as James is attempting to wake up, he is experiencing a hallucination/sleep paralysis of a woman from his past who is appearing to be trying to harm him. Along with this, his thoughts also provide an extra layer of insight which adds to the overall narrative of the story.
As the story progresses, the reader gains further insights as to how his past is affecting his present through his thoughts and reality. The interactive elements of Pry allow the reader to acquire a vast amount of different perspectives on this matter, and the reader can choose how in-depth they want to explore each chapter. Definitely an interesting and engaging work!