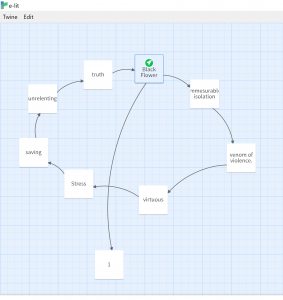 Joel Cummings
DTC 338 Artist statement
When writing "Self" I didn't know what I wanted to say through the piece. While this might not be the case for my co-author Des, I knew I wanted to address the ideas of interactive poetry as well as hypertext. I was heavily influenced by works like "Those We Love Alive" and, "My Husband Came Back from the War" while writing the different poems for this interaction. I wanted this piece "Self" to look at the emotional ups and down we face throughout our lives. But I had no idea it would come together the way that it did. When interacting with pieces like "My Husband Came Back from the War" you are drawn into the piece not just by its aesthetics but also by the emotion in the writing. This emotion is also very true for "Those We Love Alive". The emotion in these pieces is what I was trying to bring in "Self" but through looking hardships we face and overcome. Looking at this piece critically there are several parts that I tried to make interactive, those being not only the hypertext but also some of the effects put on to emphasize words or moods that are in the piece. In the first part of the interactive I wanted words like wasteland to be a throbbing sensation like all around you there is nothing. Or later on in the piece many other words move to add emphasis as well as to show the motion of the words. Words like violence, wasteland and strikes all have their own effect to convey motion as well as emotion. Another aspect I wanted to address in this piece was it being repetitive/ leading into itself. Not only because that is closer to life but also because the act of clicking on the different poems is like taking steps towards healing.
When Des asked me to work in this project, I was nervous because I haven't written much poetry. But between both of us and asking questions about where we want it to go it was amazing to see the development of it. When it finally came down to writing both Des and me bounced ideas off of each other so that each piece would fit with the ones surrounding it. Also, after all the poems were written it was amazing to see how in what ways we could change aspects of it. We looked at colors, fonts, as well as effects and finally liked how it looked simple and concise.
The hardest part for me in making this piece was in planning how it would fit together, but even that was short lived especially when we spent an afternoon writing everything seemed to fall into place and we were astounded when we were done.
In my poetic style I try to have rhymes or a letter that starts all of the different parts of the poems. While Des heavily used sounds or a rhythm for his poetic beats. So paring these two styles together was both fun as well as interesting.
http://philome.la/Elmidan1/self/play