Combinatory poetics is a form of writing that I've come across before but I never knew the name of. The foundation upon which it was built has a colorful cast, ranging from the seemingly paradoxical Dada group with the cut up technique, the surrealist with automatism, the Fluxus artists, etc. all helped shape combinatory writing.
Taroko Gorge serves as a representation of combinatory poetics. Taroko Gorge is a poetry generator created by Nick Montfort, as Retterberg explains in Electronic Literature, "It is a relatively simple script that produces an endlessly scrolling poem, cascading ceaselessly in the web browser until the reader closes the window in which it manifests." (Retterberg 47)
Looking at the code, in the script section of Fred and George, by Flourish Klink, in the script section there are nouns, verbs, and adjectives. Now words aren't completely chosen at random, there is a structure as shown in the actual poem. In the main sections of the poem, it starts with a noun, then it follows up with a verb, and then another noun. Now the words that are actually selected within the set variables are mostly random.
The picture below shows an example of certain parameters set within the poem generated to give a sense of coherence and structure.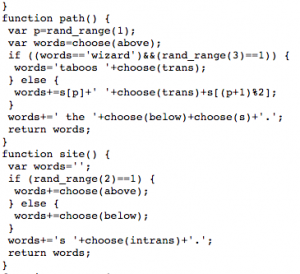 These similar parameters can be seen the other variations as well, like in "The Dark Side of the Wall" by Bob Bonsall. The main difference lies in the fact that rather than the variables contain single words, Bonsall's put entire sentences and questions within them. Outside of that main difference, the code is virtually the same as the other variations.

There is a basic meaning that can be taken from these poems, like for example "Fred and George" is incredibly sexual and this was intentional on the part of Flourish Klink. There are wizards and wands involved, I think it goes without saying that Flourish Klink really likes Harry Potter.
There is one point in the book that I believe is worth discussing as it relates to combinatory poetics within the digital sphere. On page 43, Rettberg discusses how combinatory work isn't made to produce the greatest pieces of writing, but rather as a way to represent a "range of possibilites in interesting ways".
"If a generative system only operates to demonstrate a concept while producing texts that can only be appreciated as output of a computer program but not as compelling language, in my view it fails as a work of electronic literature." (Rettberg 43)"
When I looked at the various examples of Taroko Gorge I never viewed any of the poems as compelling in any way, I simply viewed them as demonstrations of a concept. Now maybe I'm simply blind to the beauty of combinatory poetics through the use of story and poetry generators but I don't take any real meaning in the actual text. I certainly appreciate the technology, as it is incredibly impressive, but outside of that, theres nothing.
When I listen to a song like "Smells Like Teen Spirit" by Nirvana it isn't just the words and the music alone that are compelling, it is the fact that the Kurt Cobain actually experienced those emotions. With each note and lyric you can feel the passion and emotion behind it all. When you're a teenager or even an adult, you can relate with those emotions and connect with not just the song, but the artist behind it.
Lets say that a song generator creates a song that is just as powerful if not better than "Smells Like Teen Spirit." Even if it was an objectively better song, I would still like "Smells Like Teen Spirit" more, and I would view the product created by the generator as a lesser product. I say this because a generator does not know what it is like to experience emotion, it doesn't know what it is like to struggle, it doesn't understand the frustrations of being a teenager and how that affects someone. Anything that it creates rings hollow because it can't actually experience anything it describes.
Sources:
Electronic Literature by Scott Rettberg
"Taroko Gorge" by Nick Montfort
"Fred and George" by Flourish Klink
"The Dark Side of the Wall" by Bob Bonsall