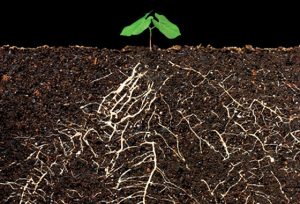 Initially when I read the first couple of paragraphs in "The Babysitter" I didn't expect the story to take the disturbing turns that it did.
The story appears to be about a babysitter who is watching Mr. and Mrs. Tucker's little ones while they are off at a party. The babysitter at first appears to have a pretty typical night, she takes care of the young kids who are being as rowdy as could be expected from children their age.
In this story, there are a few characters outside of the babysitter who are important. Mr. Tucker is the father of the children, and is incredibly attracted to the babysitter, in certain paths, he ends up putting himself on her. Mrs. Tucker, is the mother of the children, and appears to be somewhat suspicious of Mr. Tucker and also incredibly unhappy as indicated on page 4.

Then there is Mark and Jack, who have plans to rape the babysitter. The easiest way to describe the story is that the babysitter has the worst night imaginable.
Also, while the story is called "The Babysitter" it does not solely focus on the babysitter, but rather it gives incredible attention to all of the characters, which appears to be influenced from modernist writing. (Rettberg 56)
The story is a bit hard to follow on the PDF but the strong writing helps, "Although chronological progression takes place in the story, as we move from 7:40 p.m. into the late hours of the night, the distinction between objective reality and fantasy falls away as we read the fragments, and every possibility has equal opportunity to be visited." (Rettberg 58)
Coover's approach through fragmentation may at first seem to be an annoyance as the reader has to pay incredible attention to what is happening, but I view it as a strength of the story. The fragmentation encourages the reader to fully involve themselves by looking at each fragment and looking at which match together and which don't. It felt like I was piecing together the story, and just when I thought I had it pieced together, there are additional fragments that lead to other paths in the story as certain fragments have fragments that can go into different directions.
While reading the story, I made highlights as a way to indicate fragments that I was piecing together. I only wish that the story wasn't on a PDF file so I could actually move the fragments around.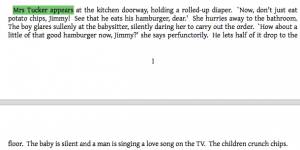 This "fiction of possibilities" allows for a level of engagement that cannot be achieved in traditional storytelling. In a way, it allows the reader in a limited capacity, to be the author of their own narrative.
Coover's influence can be seen clearly in hypertext fiction, which have experimented and explored the idea of multilinearity for many years. An example can be seen with the story of Uncle Roger by Judy Malloy which contained seventy-five lexia, which was in a database structure. (Rettberg 69)
Sources:
Electronic Literature by Scott Rettberg
"The Babysitter" by Robert Coover