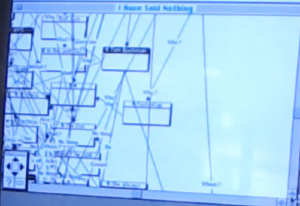 One of the many beauties behind hypertext and works of electronic literature is that sense of unending possibilities. The nodes and paths of a hypertext, or of the internet as a whole, somewhat mimic that of neurons and the human brain. Connections that may at times seem random, constantly changing and created different paths. There are potentially endless different possibilities to read a single work of hypertext and everything depends on the individual sitting in front of the computer at that given moment. It's based on the choices they make at the time. Then, if they decided to go through the hypertext again, there is also no guarantee that they would read it the exact same way the second time around, or the third or fourth. As Robert Coover states,
And what of narrative flow? There is still movement, but in hyperspace's dimensionless infinity, it is more like endless expansion.
Hypertext, though digital and somewhat erratic due to its multi-/non-linearity, is still literature or at the very least has the potential to be considered literature. It all has to do with the content included within the work rather than dependent on being in a print medium.
With the birth of hypertext came the chance to expand one's thinking beyond the boundaries of linearity. Certainly storytelling did not and has not always been solely confined to a strict linear "beginning-middle-end," but it provided more artistic opportunity to think even beyond the confinement of telling a story in a single way. It created the chance for the readers to choose where the story would go, and develop or discover their own ways through the work, individualizing the experience for each and every person in a way that a physical print book would be unable to achieve. It creates a new way to examine and think about works, literary or otherwise, and how various parts connect to one another. The opportunities are endless, only limited by the imagination of creator and reader.
Source(s):
Robert Coover's "The End of Books"