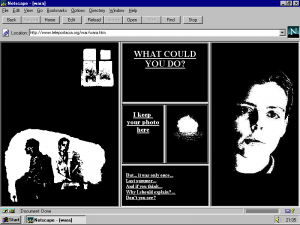 Olia Lialina's 1996 hypertext fiction piece "My Boyfriend Came Back from the War" set out to bring a cinematic narrative to the computer with its  black-and-white images and intertitles that harken back to silent films. Although it is not the most complex example of hypertext fiction, it stands out to me not only for its simplicity but also because of its multilinearity. As the reader clicks through the story, the screen divides more and more into various windows that each hold a part of the story. Although the piece does not contain variability in the conventional way of a randomized experience upon each session, the multilinearity allows for the story to be read in different orders. It may not be true variability, but it is an extremely basic version of it.
"My Boyfriend Came Back from the War" is a solid starting point for hypertext fiction, due its basic composition and short length. And, despite taking just a few minutes to complete reading, it holds many similarities with "newer" hypertext pieces of fiction around its time, such as Mark Amerika's "GRAMMATRON" and Yael Kanarek's "World of Awe". Perhaps the most notable similarity is its heavy implementation of moving images, or GIFs. It can also be defined as an example of "net art", likely one of the first.
Lialina's piece stands as a basic example of the second wave of hypertext fiction during the late 90's that implemented more advanced computer graphics and technology that was exploding alongside hypertext fiction. Its gritty animation that pays homage to silent film connects the medium to media of the past and opens the door for hypertext fiction to intertwine with more forms of media.