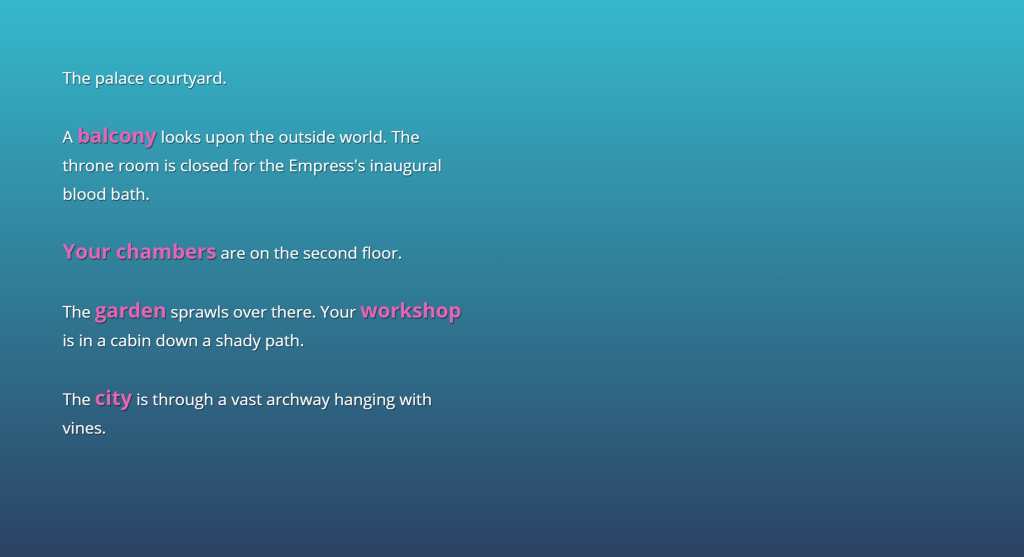 Both of Porpentine's Twine narratives engulf the interactor into the work, immersing them in the fiction as their eyes trace the words along each line.
Porpentine's earlier work, "Howling Dogs," truly portrays a dark sense both with the language used–the way the first line alone reads the moment the user goes to read the work–and also by the colors on the page, immediately opening to an inverted color scheme as though the thin white letters on the page would be sucked in to the massive darkness surrounding them. Not too far into this work, the interactor is provided with a sort of map or at the very least a text description of the environmental layout.

Upon exploring the various areas, more times than not a dead-end will be reached, providing a sense of stuck-ness or being trapped. Visiting the lavatory then the shower within gave an even stronger sense that reinforced that very feeling of confinement.
The shower is a peaceful time for you, a way of demarcating space within extremely limited space, moisture and temperature standing in for spatiality. This is wet space, warm space, flowing space.
Porpentine is very purposeful about what type of language to use in certain situations. Even so, when it comes to goals or puzzles, the text itself is a giant mystery to be unraveled. The user must explore various areas and put the pieces of information together to simply figure out what is going on and then what they feel they are supposed to do. This is true of both "Howling Dogs" and "With Those We Love Alive," both of which were created by Porpentine.
The difference between the two however, is how complexly they are laid out, the stories themselves, and that the later created IF ("With Those We Love Alive") also uses sound and various other color schemes to immerse the interactor and communicate certain, very specific feelings and messages as they explore the work.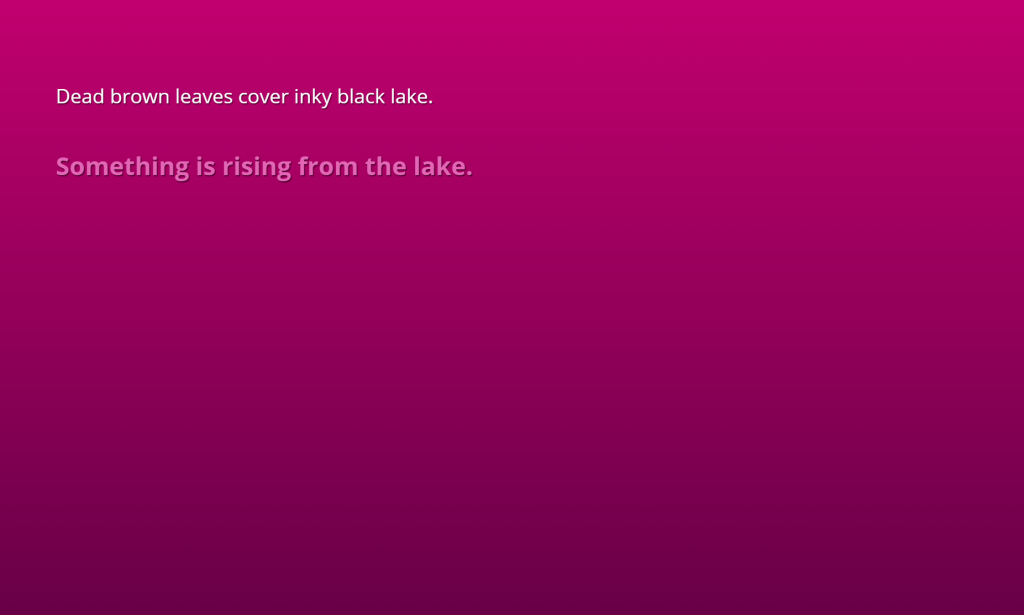 They are both a matter of solving the big unanswered question by finding and putting together the puzzle pieces hidden throughout the text. Sometimes you get it, sometimes you don't, and sometimes you just have to try again. Can't that very same thing be said about everyday life?
Sources:
Porpentine's "Howling Dogs"
Porpentine's "With Those We Love Alive"