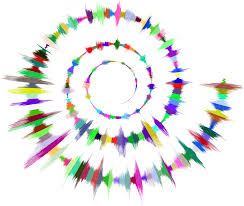 Rettberg's chapter on Kinetic and Interactive poetry covers many types of digital poetry. The sections I found myself most interested in were those on visual and sound poetry. I appreciate the kinetic aspects and found that digital poetry that combined sound and text as images held my interest best.
"Rain on the Sea" by Y0UNG-HAE CHANG HEAVY INDUSTRIES was incredible. It took me by surprise (as did most of the works we studied this week) because I didn't know what to expect. I hadn't explored their work before. After experiencing "Rain on the Sea" I found more of their work to see what else they're doing, and found that they have a style. The use of Flash, and pacing their text to upbeat music so that words are presented almost too quickly to comprehend created a juxtaposition. I found myself enjoying the music but trying to follow the story, and feeling oddly conflicted trying to experience the story, visual art, and music all together. I grew a little frustrated with the edges of the text being cut off and flashing by so quickly, but liked the story and the music. At the end I was left feeling both wrung-out and exhilarated.
Tachistoscope was another piece I really enjoyed. The presentation of single words (mostly) atop images that at times enforced and other times contradicted the text was visually interesting, and I enjoyed the story that Poundstone was telling. The addition of sound drew me in more and kind of helped me keep pace with the story. I went through it a few times, trying to focus more on the words in white font and find out how they're affecting my experience or interpretation. It was difficult but I think I got more of the story that way.
This class module is very interesting and I'm super enjoying exploring it!