The first work I decided to take a look at was I Love Alaska by Lernert Engelberts and Sander Plug. This work intrigued me initially because the genre listed next to it on the DTC webpage was flarf. When I read Scott Rettberg's definition of flarf I found it to be intriguing, but I  did not find myself fully grasping what the genre meant.
"Flarf poetry celebrates the profusion of language unleashed into our lives with search engine technologies and the ever-expansive flood of algorithmically curated human discourse continually available to anyone with a web browser and an open search window." – Scott Rettberg
At first, I imagined that flarf focused more on the auto-generated "suggested" search options that pop up when a user begins to type their search term. But after viewing I Love Alaska, I have a much better understanding of what the Flarf genre can entail. I found I Love Alaska to be an outstanding, strange, and thought-provoking video. All the video does is present the leaked search history of a particular user in the year of 2006. This offers us a glimpse into that user's life in an incredibly unique way. We get to see and hear what they search for on the internet, nothing more. It is up to the viewer to fill in the possible gaps and reasons that the user made these searches. I found this work to be quite emotional at times and maybe oddly funny. I found it interesting how many of the users search terms were asking questions to the search engine as if it was a human that could answer their questions. It brings on the idea that this user was battling with depression or some form of loneliness. This work made the previous quote from Rettberg much more clear. One possibility of the flarf genre is a focus on the unique language that people utilize to perform searches on the web, and how it can serve as a unique window into their lives.
Another work that I found to be incredibly engaging was The Fall of the Site of Marsha by Rob Wittig. This work is described as webpage fiction because it tells a story through the use of a webpage created by a fictional character. The story focuses on a webpage made by a seemingly innocent woman. Her webpage is poorly made but endearing because it has a positive atmosphere and focuses on angels. However, the website is slowly taken over by the angels that she loves so much, who accuse of her of killing her father through neglect, eventually leading to her website being completely taken over by the angels. This work shows the true dark side of the internet in an incredibly unique and immersive fashion. It makes the user feel as if they are watching a website be taken over first hand, instead of just reading about it in a story.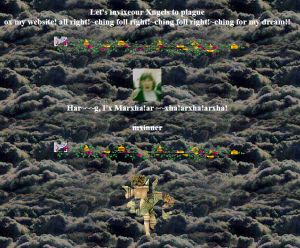 Overall, Network Writing is engaging because it makes the user reconsider how they use networks in their daily lives. Works such as I Love Alaska show that networks can record private moments in a person's life for strangers to examine and gawk at. These works can be quite emotionally engaging, especially I Love Alaska and The Fall of the Site of Marsha.