Pry tells its story through a mixture of medias. Described in the Apple Store as "…a book to watch and film to touch…",  video and accompanying audio, stand-alone audio clips, as well as text make up the bulk of the user's experience. The prologue plays as a short video, establishing the protagonist and the narrative space as well as the tone for the rest of the piece. A young man packs for a trip with little explanation given. The prelude is short, but in the way the protagonist lays out all of his objects so meticulously, to shove them all into his bag when his ride arrives, the Tarzan novel mixed in with bare essential objects, the hesitant moment that leads them to stop and collect a lock of hair from the family dog… few words are spoken, but these little details shows the depth of the character and the world that they reside in. It also prepares the reader for a narrative that won't just be handed to them, but must be sorted out from the small details left unsaid.
The first chapter jumps to another point in time and throws the user into a scenario resembling sleep paralysis as text appears on a black backdrop, providing narration and prompting the user to use the multi-touch feature of the iPad or iPhone's touchscreen interface. By dragging a thumb and a finger away from each other with a "prying" gesture, the user forces the protagonist's eyes open, staring at the water stain on their bedroom ceiling as shadows pass by. Releasing their digits from the touch screen causes the eyelids to close once again, and the text narration reflects on the world in the narrative space. Likewise, the user is prompted to use thumb and finger in an opposite "pinching" motion to invert the narrative: rather than taking in the external surroundings of the protagonist, the user gets a visual glimpse into the protagonist's mind. Again, releasing the gesture causes the scene to return to the narrative text.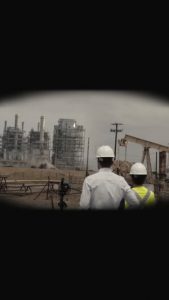 By fluidly switching between these three narratives modes, the internal, external, and the text, with simple gestures the chapter advances in cryptic chunks that the user has to piece together. By giving the user control of which of these three channels are activated, when, and for how long, the user becomes more engaged, and the three narrative streams align in a combinatory fashion. With that control, the experience of the user can vary, as in multi-linear narratives, with some media objects theoretically being missed, which encourages multiple go-throughs.