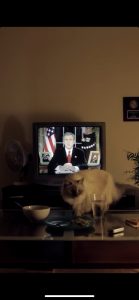 In the second half of Pry, there are many details that come to light that are kept under wraps in the first half of the story. In chapter 5, there is more information regarding James' eyesight, when Luke gives him another job after initially firing him because of the issues revolving around his eyesight. We also gain more insight into Luke's character, as he is trying his best to give James as many opportunities as possible despite his challenges. This chapter follows the same format as the previous chapters in regards to how the reader navigates through the story.
In chapter 6, the story's format changes slightly. The reader is faced with reading through a long selection of text, as one would read a body of text traditionally. However, by prying the screen between two lines of text, different visuals appear that show James' relationships with different people, most notably with Jessie. In this chapter, we begin to pick up on the close relationship James and Jessie had at one point.
The Epilogue shows visuals of both George H.W. Bush, as well as George W. Bush on the television, describing what appears to be both the Gulf War and the Iraq War, respectively. The reader can infer that James is watching the television at both moments in time, and there is a video of James going off in the truck that was seen in the Prologue; indicative of the fact that there is a perspective from James from both before and after he goes to war.