Out of the various forms of divergent streams discussed by Rettberg, the one that really caught my attention was locative fiction, especially in regards to AR. Up until the digital age (and particularly up until smartphones became commonplace), location-based art was fleeting. Street performances, outdoor concerts, flash mobs, and the like could be experienced only if the viewer was physically in the area; videos and retellings of the events are interesting but ultimately inauthentic secondhand narratives, unable to precisely capture the minute details of a live event.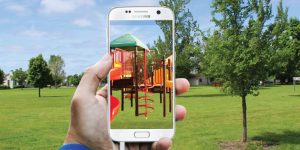 With locative fiction, however, the intimacy of neighborhood performance art is able to be fixed in time and space. It's able to, in theory, be experienced by people months or even years apart, without any part of that experience becoming diminished through attempted reproduction.
The term locative fiction encompassed a wide range of e-literature styles, such as net art, kinetic poetry, or even hypertext fiction (perhaps the hyperlinks within the story change depending on where you are in a neighborhood?); they can also be wholly digital (such as a story that appears on your phone), or could be augmented or even virtual reality. Rettberg describes just how varied locative fiction can be:
We could investigate a murder mystery by retracting the steps of the killer at the scene of the crime. We could situate historical fiction set in a different era on the streets of the contemporary city. We could write poems, layered in augmented realty in the sky above the mountains they describe, as we sweep across the landscape and watch the live video on the screens of our phones (184).
In my opinion, the idea of augmented reality is full of the most intriguing literary possibilities. What if the historical fiction wasn't simply a locative story, but a locative story set in AR? By tracing a path with your phone's camera, you could watch the stories of famous figures unfolding in your very own city, with the modern world setting a sharp contrast–or, perhaps even show you how little your town (or the town you're visiting) has changed by highlighting historical sites. Or, a library could have a multilinear story that shifts between genres depending on where you go within the building, leading you to suggestions for similar reading (digital and physical!).
Combining the intimacy and personality of a physical location with the creativity and wide-open nature of locative fiction, the possibilities are endless.