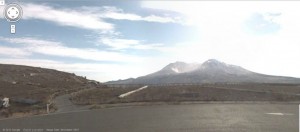 A snapshot is a single story of a moment in time and these snapshots can be anything from a stereotypical story about a place, archeological findings from an extinct era, art or film. In "The Work of Art in the Ages" Walter Benjamin makes an interesting statement about human perception:
"During long periods of history, the mode of human sense perception changes with humanity's entire mode of existence."
Today this mode of existence can be seen in the snapshots of life on earth that is being captured by Google Maps. Our change in perception has not exactly been for the best, as we have become accustomed to having our desires and the world before us at a single click. I find it interesting that Benjamin makes an accurate observation about this when he states:
"The manner in which human sense perception is organized, the medium in which it is accomplished, is determined not only by nature but by historical circumstances as well."
Today the largest medium is the internet with Google Maps showing millions of captured moments from around the world.
At first the assignment seemed daunting because of the millions of miles of roads out there lastly after some thought I decided to start with my commute to work, even though there was some interesting pictures I decided to travel along the Gorge, Hawaiian beaches and finally to Mt. St. Helens. This moment of time captured the 'aura' of destruction still visible from 30 years ago along with the mountain taking a breath shown from the steam rising from the crater.
Audra Mann | @WSUVcollegeMom