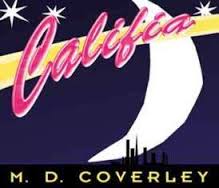 On Monday, March 14 and Tuesday, March 15, pioneer electronic literature artist, M.D. Coverley (aka Margie Luesebrink) is giving a traversal of her hypertext novel, Califia (2000) at the Electronic Literature Lab as part of Pathfinders, Volume 2, which we plan to release next fall.
As is noted in Califia' entry in ELMCIP:
Spanning five generations of swashbuckling Californians, Califia is the story of Augusta Summerland's epic search for a lost cache of gold. Join Augusta, and her friends Kaye and Calvin, on their adventures in modern Los Angeles, where they unearth mysteriously incomplete documents in local archives, discover old California myths and legends, and connive to outwit an edgy businessman with his own designs on the elusive Treasure of Califia.
I was first introduced to the work in 2001 at Kate Hayles' NEH Summer Institute  (named "Literature in Transition") when the author spoke to our group about her work. The work was published by Eastgate Systems, Inc. and has become one of the best-known works developed for CD-ROM technology.