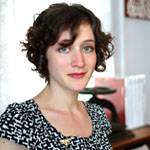 About the Artists
Amaranth Borsuk is the author of Handiwork (Slope Editions, 2012), and, together with programmer Brad Bouse, of Between Page and Screen (Siglio Press, 2012), a book of augmented-reality poems. She has a Ph.D. in Literature and Creative Writing from the University of Southern California, and recently served as Mellon Postdoctoral Fellow in the Humanities at MIT, where she taught classes in digital, visual, and material poetics. She is currently an Assistant Professor in Interdisciplinary Arts and Sciences at the University of Washington, Bothell.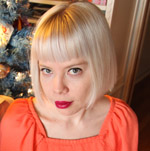 Kate Durbin is a Los Angeles-based writer and artist. She is author of The Ravenous Audience (Akashic Books, 2009), Kim's Fairytale Wedding (Spork Press, forthcoming), E! Entertainment (Wonder, forthcoming), and co-author of Abra, forthcoming as an iPad app and artist book with the help of a grant from Center for Book and Paper Arts at Columbia College Chicago. She has also written five chapbooks. She is founding editor of Gaga Stigmata, and her tumblr project, Women as Objects, archives the teen girl tumblr aesthetic.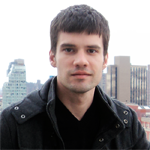 Ian Hatcher is a text, sound, and code artist. He has performed in a variety of contexts, including at the Kitchen (NYC), E-Poetry (London), ELO (Paris), &NOW (San Diego), and Interrupt (Providence). Recent poetry has appeared in The Claudius App, LIT, Web Conjunctions, and CLOCK. Along with Amaranth Borsuk and Kate Durbin, he is co-author of the book/app Abra, forthcoming from the Center for Book and Paper Arts. He is the primary composer and accompanist for the Moving Architects dance company. He lives in NYC, where he works a day job as a software developer.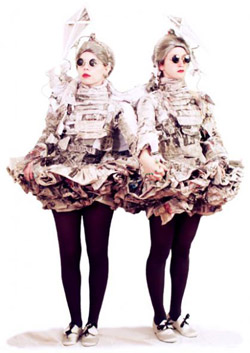 About the Literary Work
The recipient of an Expanded Artists' Books Grant from the Center for Book and Paper Arts at Columbia College Chicago, Abra is an exploration and celebration of the potentials of the book in the 21st century. A collaboration between two poets, one artist-developer, and a potentially infinite number of readers, the project will be realized as an artist's book, performance, and iPad app in 2014. Abra plays with the notion of the "illuminated" manuscript, using its physical and digital forms to create poems that grow in the reader's hands, an ecstatic helix of language that mutates on its own and that changes further with the reader's assistance. In this way, Abra functions much like the magic word of its origin–-abracadabra-–as an unpredictable living text.