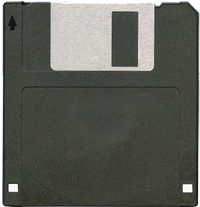 What happens to literary works meant to be experienced on a computing device when the software and computer systems with and for which they are created update, change or become obsolete?  Do we allow these works also to become obsolete, or do we find ways to preserve them since they are important literary and cultural artifacts?
"Pathfinders:  Documenting the Experience of Early Digital Literature," led by Dene Grigar (Washington State University Vancouver) and Stuart Moulthrop (University of Wisconsin––Milwaukee), is a digital preservation project that captures an important moment in literary history:  the development of early digital literature.  As such, it aims to enrich our understanding of key texts from that moment and pioneer methods that can be used to preserve and explore other examples of participatory media.  It is funded by a Digital Humanities Start Up Grant from the National Endowment for the Humanities.
The focus of the project is to make documentary video recordings of readers as they engage with works of early computational literature involving multi-path reading strategies, dating from the crucial period of invention that preceded popularization of the Internet (roughly 1985-99).  Part reading, part performance, part software user-experience, these sessions constitute what we call traversals.  The people making our traversals will include authors of the works themselves, as well as a group of volunteers with a diversity of age, gender, and reading interests.
"Pathfinders" brings new approaches and document best practices in the study of the digital humanities, specifically with literary artifacts generated from digital production.  The project also develops prototypes of new digital tools for preserving, analyzing, and making accessible digital resources.  One of the main contributions of this project will be methods and practices for presenting traversals in a rich audio-visual record, techniques that could eventually be applied to other forms of participatory media, such as Web-based writing (blogs, wikis), multi-user spaces, and computer games.
Four artists were originally selected for the traversals–– Stuart Moulthrop, John MacDaid, Judy Malloy, and Shelley Jackson.  Bill Bly was added to the project in January 2014.  Three of the five traversals have taken place at the Electronic Literature Lab (ELL) at Washington State University Vancouver, directed by Grigar.  ELL contains 24 vintage Macintosh computers dating from 1983 and, so, will allow the traversals to occur on computers for and with which the works were originally produced or viewed.  Malloy's traversal was held in her office at Princeton University and Bly's in the offices of the Maryland Institute for Technology in the Humanities at the University of Maryland.