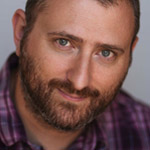 About the Artists
Jay Bushman (jaybushman.com) is an award-winning producer and writer of transmedia and platform-independent entertainment.  An innovator and leader in the transmedia community, he pushes the boundaries of next-generation entertainment. One publication even named him "The Epic Poet of Twitter." He was the Transmedia Producer and a writer for The Lizzie Bennet Diaries. An innovative video and social media modernization of "Pride & Prejudice," the show compiled an audience of over 40 million on YouTube, launched a record-breaking Kickstarter campaign and won an Emmy Award for Outstanding Original Interactive Program. He is the co-creator and co-showrunner of the sequel interactive series, Welcome To Sanditon.
As a writer and producer with Fourth Wall Studios, Jay helped to create the Emmy-winning series Dirty Work, and created the show Airship Dracula.  Jay is the co-founder and a leader of Transmedia Los Angeles, one of the world's leading professional transmedia organizations.
For more information about Jay Bushman's work visit his website:  jaybushman.com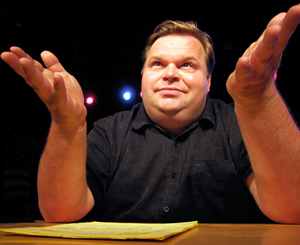 Mike Daisey (http://mikedaisey.blogspot.com) has been called "the master storyteller" and "one of the finest solo performers of his generation" by The New York Times for his groundbreaking monologues which weave together autobiography, gonzo journalism, and unscripted performance to tell hilarious and heartbreaking stories that cut to the bone, exposing secret histories and unexpected connections. His controversial work, The Agony and the Ecstasy of Steve Jobs, was recognized as one of the year's best theater pieces by The New York Times, Wall Street Journal, The Washington Post, Seattle Times, Seattle Weekly, San Jose Mercury News, and The San Francisco Bay Guardian.
As a playwright, his transcript of The Agony and the Ecstasy of Steve Jobs was downloaded over 100,000 times in the first week it was made available. Under a revolutionary open license it has seen more than forty productions around the world and been translated into six languages. The first Chinese production opened last year in Beijing, and will tour to Hong Kong and Shenzhen this year.
Since his first monologue in 1997, Daisey has created over fifteen monologues, including the critically-acclaimed The Last Cargo Cult, the controversial How Theater Failed America, the twenty-four-hour feat All the Hours in the Day, the unrepeatable series All Stories Are Fiction, the four-part epic Great Men of Genius, and the international sensation 21 Dog Years.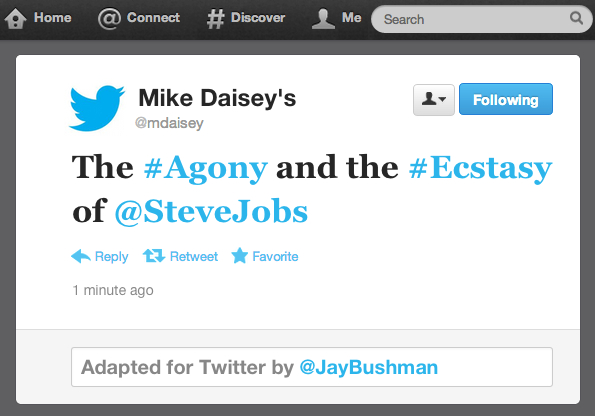 About the Literary Work
The Agony and the Ecstasy of Steve Jobs is Mike Daisey's controversial theatrical monologue about the cult of Apple and dehumanizing labor practices, adapted by Jay Bushman into a stream of consciousness Twitter drama.