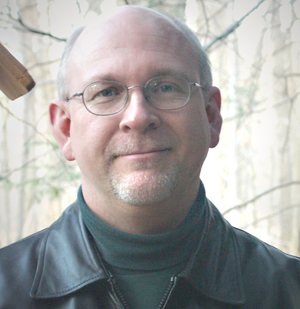 Stuart Moulthrop, who for the last 25 years has produced many critically significant works of digital writing and art, is arriving for a series of videotaping, on July 8-9, at Washington State University Vancouver, and a public lecture on July 9th at Nouspace Gallery.  The videotaping, taking place in the Electronic Literature Lab (ELL) located at the university, is aimed at producing a performance of his work that can be archived for posterity in international databases and made available in a multimedia web book.
The impetus for the "Pathfinders" project is hinted to in its subtitle, "Documenting the Experience of Early Digital Literature." So, our project is unique in that we want to preserve the human experience of interacting with early digital literary art rather than the simply preserving the art itself.   This experience includes, of course, the computer.  Moulthrop's early work, like Victory Garden (1991), was produced for computers that are not compatible with current standards and, so, not available for web-based archives without changes to its original form.  To preserve the beauty of the original work, we will videotape Moulthrop in ELL performing his work on a vintage Mac Classic, as he talks through the work, a process we are calling a "traversal." We will follow his traversal with two others by readers unfamiliar with his work so that we have a record of several readers' experience with Victory Garden.
Moulthrop makes a good choice for the first Pathfinder:  Beginning with various HyperCard experiments in the late 1980s, and the pre-Web hypertext Victory Garden (1991), which Robert Coover described on the front page of The New York Times Book Review as a "benchmark" for electronic literature, Moulthrop has long been considered one of the pioneers of digital literary art.  Early Web projects like "Hegirascope" (1995) and "Reagan Library" (1999) have been written about extensively.  In the mid-90s Moulthrop co-edited the groundbreaking online journal Postmodern Culture, bringing out its first digital-only special issue.  In 1999 he became a founding board member of the Electronic Literature Organization. 2007 brought two Flash projects, "Deep Surface" and "Under Language," which won the international Ciutat de Vinarós Prize for Digital Narrative and shared the prize for Poetry.  In 2011 Moulthrop was a visiting fellow at three Australian universities, and an In(ter)ventions resident at the Banff Centre for the Arts in Canada in 2013. He lives in Milwaukee, where he is Professor of English at the University of Wisconsin-Milwaukee.
Moulthrop's public lecture at Nouspace Gallery, 1005 Main St, Vancouver, WA), entitled "Failure to Contain:  Electronic Literature and the State of (Machine) Reading," is free and open to the public.  For more information, contact Dr. Dene Grigar, dgrigar @mac.com.  "Pathfinders:  Documenting the Experience of Early Digital Literature" is funded by a 2013 National Endowment for the Humanities "Digital Humanities Start Up Grant."