With Stuart Moulthrop, arriving on  campus next week and Pathfinders revving up into high gear, we have brought in some people to give us some high octane power.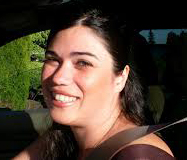 First, we are excited to announce that we have hired Amalia Vacca as our undergraduate research assistant.  Amalia is a senior in the CMDC Program and has been studying electronic literature for over a year, serving last April as docent at the Library of Congress exhibit, "Electronic Literature and Its Emerging Forms".  Currently a Fellow in the iPublishing Summer Initiative where she is learning how to build (code, design, conceptualize) new models for online publishing, she brings to her position experience that has prepared her for organizing the traversals and the events surrounding them and the development of the AppBook in which the videos of the authors and readers will be featured.

Lending a hand with the liveblogging for the authors' traversals and interviews is Morgan Hutchinson.  Morgan is graduating from the CMDC program this August.  Like Amalia, Morgan has served as docent at the Library of Congress exhibit; she also joined us as docent at the electronic literature exhibit we curated at the MLA 2013 in Boston.  Morgan is specializing in project management and, to that end, led the team of six students who produced the augmented reality environment for the Community Foundation for Southwest Washington.

Handling the video work for the project is Aaron Wintersong.  Aaron graduated in May 2013 and is also producing videos and animations for the iSci project that Grigar is collaborating on with Mathematics professor Alex Dimitrov.  Aaron will serve as both videography and video editor as well as helping to prepare the material for the AppBook.
We are also fortunate to have two excellent folks joining us on Wednesday, July 10 to read Moulthrop's Victory Garden for our project.  Pat Kutkey, who teaches computers at Pacific Middle School in the Evergreen School District, will read from 11 a.m. to noon, and Sean Philbrook, a sophomore Computer Science major at WSUV, will read from 1 p.m. to 2 p.m.